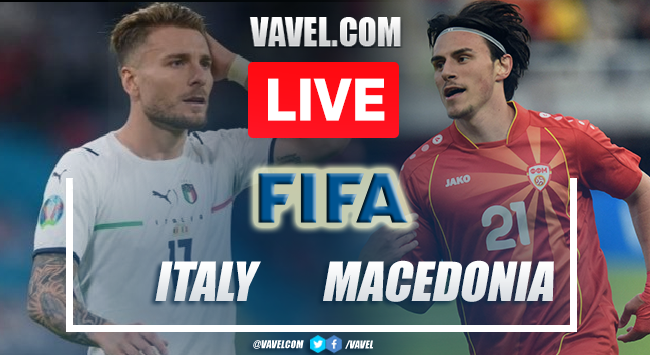 The North Macedonian goal
Thanks
End game
95'
92'
90'
86'
85'
80'
78'
77'
72'
67'
64'
62'
59'
57'
53'
52'
47'
46'
Half time
45'
42'
38'
35'
32'
30'
30'
28'
23'
19'
12'
10'
3'
0'
Minutes away
Great reception
North Macedonia substitutes
Italy substitutes
XI North Macedonia
XI Italy
The dressing room
The keys
Ghosts of 2018
Hard low
Start
Tune in here Italy vs North Macedonia Live Score in World Cup Qualifiers 2022
What time is Italy vs North Macedonia match for World Cup Qualifiers 2022?
Last games
Key player Macedonia North
Key player Italy
Last lineup North Macedonia
Last lineup Italy
Who will the winner go up against?
North Macedonia: to make a splash
Italy: with their sights set on Qatar
The Kick-off
Welcome to VAVEL.com's LIVE coverage of the World Cup Qualifiers 2022: Italy vs North Macedonia!