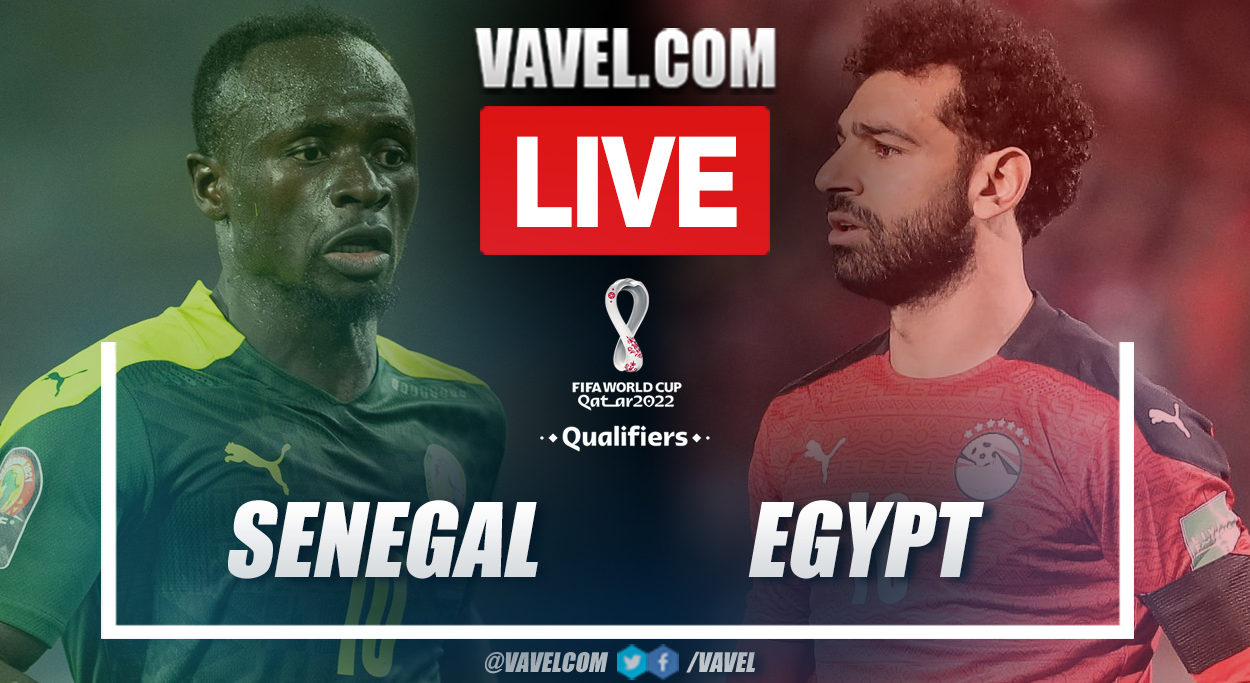 Thanks!
SADIO MANÉ SCORES A GOAL! SENEGAL IS IN THE WORLD CUP IN QATAR!
MENDY SAVES!
GOOOL for Senegal
GOAL for Egypt
GOOOAL for Senegal
ZIZO'S SHOT IS OUT!
EL-SHENAWY SAVES!!
SALAH'S SHOT IS WIDE!
KOULIBALY MISSES! BALL TO THE CROSSBAR!
The penalty shootout series is coming
120+2' End of match
120' Additional time
119' Yellow card
118' Egypt substitution
114' Senegal substitution
114' Senegal came closer
112' Yellow card
110' Little to highlight
Second extra time begins
105+1' End of first extra time
105' Additional time
103' EL-SHENAWY MADE TWO SAVES!
100' Last five minutes of the first extra time period
95' EL-SHENAWY'S GREAT SAVE AGAIN!
94' EL-SHENAWY MAKES A GREAT SAVE!
First extra time begins
90+3' End of the match
90' Additional time
85' Last minutes!
82' SENEGAL MISSED IT!
81' Senegal double substitution
75' Egypt came close!
71' Egypt had it!
70' Yellow card
70' Three changes for Egypt
68' Senegal substitution
65' The series is still tied
60' Starting to get into a bit more rhythm
55' The score remains unchanged
50' The match is stopped
Second half begins
45+5' Halftime
45' Additional time
45' Yellow card
42' Senegal came closer
37' Yellow card
36' Egypt substitution
34' Yellow card
29' Senegal substitution
28' Senegal came close!
25' Not much happening in the game
20' Senegal continues to win
14' Egypt came closer
8' Intense start of the match
4' GOOOAL for Senegal!
1' A furious start from Senegal
The match is underway!
Match officials
Teams on the field
Substitutes - Egypt
Starting XI - Egypt
Substitutes - Senegal
Starting XI - Senegal
Last five matches - Egypt
Last five matches - Senegal
Egypt ready for a duel that will go down in history
Senegal remembering moments
Welcome back
Tune in here Senegal vs Egypt Live Score!
How to watch Senegal vs Egypt Live Stream on TV and Online?
What time is Senegal vs Egypt match for Qatar 2022 World Cup Qualifiers?
Key player - Egypt
Key player - Senegal
Senegal vs Egypt history
Egypt
Senegal
The match will be played at the Stade Me Abdoulaye Wade
Welcome to VAVEL.com's coverage of the Qatar 2022 Qualifiers match: Senegal vs Egypt Live Updates!