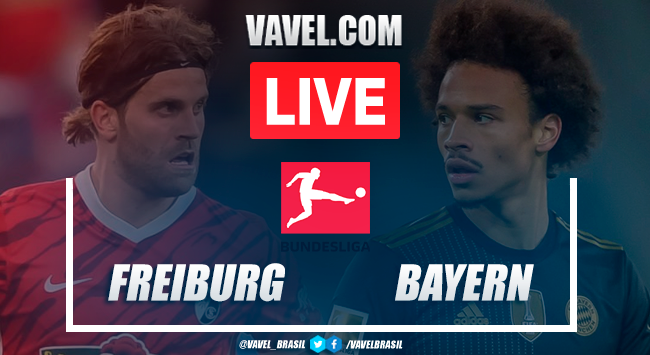 Next Matches
Classification
⏱️
⏱️
98'
96' GOAL BAYERN MUNICH
94' WOW
91' Yellow card for Bayern Munich
90'
89'
87'
86' Substitutions for Bayern Munich
83' Substitutions in Freiburg
82' GOAL BAYERN MUNICH
80' NEUER
73' GOAL BAYERN MUNICH
72' Substitution in Bayern Munich
71'
69' Yellow card for Freiburg
69' Substitution in Freiburg
63' FREIBURG GOAL
62' Substitution in Freiburg
61' Substitutions for Bayern Munich
57' GOAL BAYERN MUNICH
51' ALMOST
50'
45'
⏱️
⏱️
45'
44'
41'
40'
37'
20'
17'
14'
12'
10'
5'
2'
00'
⏱️
⏱️
⏱️
⏱️
Bavarian substitutes
Bayern Munich with its 11
Fox reserves
Freiburg defined
Lewagoal
Will it increase?
Video Refereeing
Field Referee
How and where to watch the Freiburg vs Bayern Munich match live?
What time is Freiburg vs Bayern Munich match for the Bundesliga?
11th round
Nagelsmann exalts Raposa's qualities
Probable lineup for Bayern
Bayern's situation
Streich expects to be a rock in the opponent's way
Probable lineup for Freiburg
Freiburg's situation
Bavarians on top
Fox wants the G-4
G-5 Meeting
Welcome to VAVEL.com's coverage of the Bundesliga match: Freiburg vs Bayern Munich Live Updates!