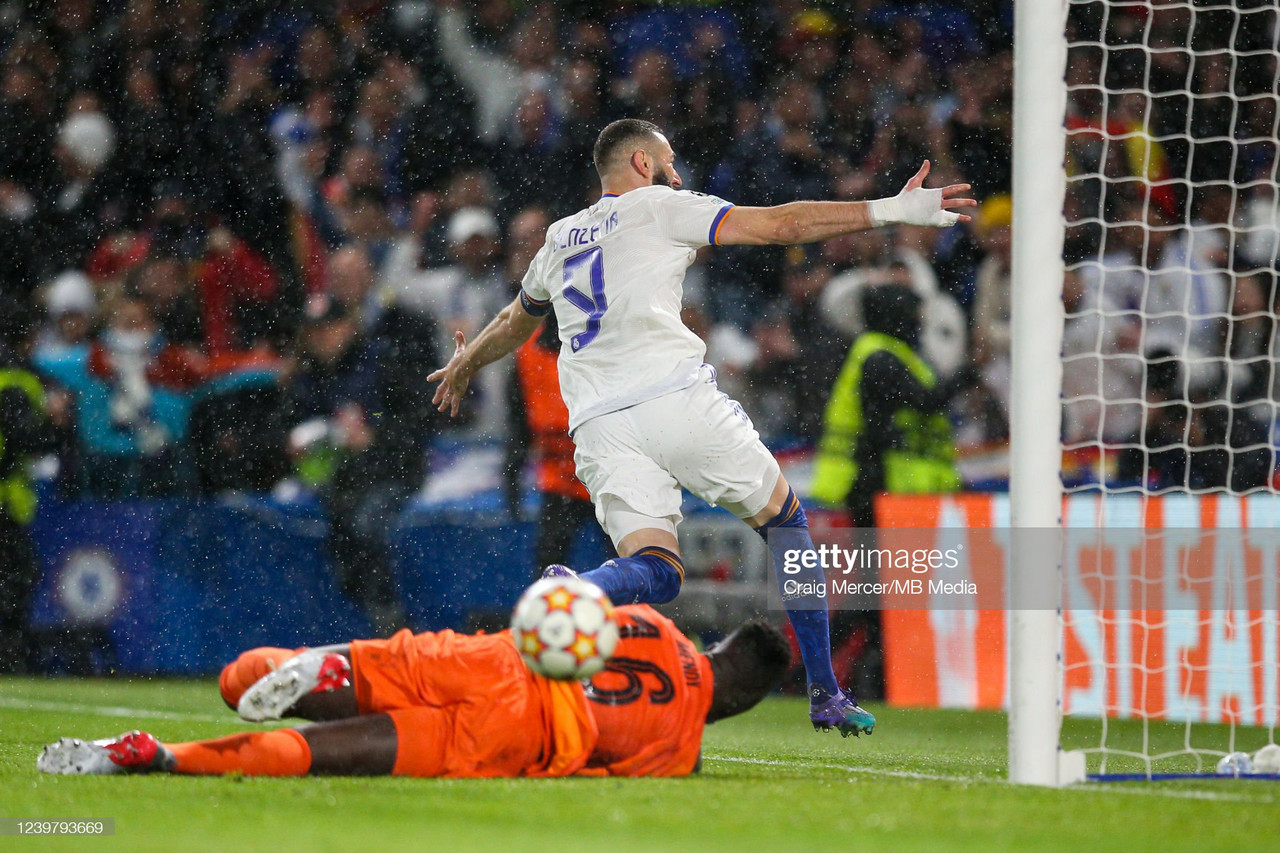 Real Madrid has one foot in the door of the UEFA Champions League semi-final after a great performance on the road beating Chelsea at Stanford Bridge.
The visitors get off to a great start
Four minutes into the first half it was Real Madrid on the offensive and Eder Militao from distance was able to get the first shot off but Edouard Mendy the Chelsea goalkeeper was able to make the diving save.
Six minutes later Vinicius had a great chance to score the game's first goal but his shot rang off the bar and stayed out. In the 15th minute, Chelsea was awarded a free kick thanks to a foul by Militao.
It was a great kick but Thibaut Courtois was able to make a great save pushing the ball out of danger. Mason Mount two minutes later had a great header on target but again saved by Courtois to keep it 0-0.
Karim Benzema opened the scoring in the 21st minute as he got a great cross from Vinicius and headed it into the back of the net to give the visitors a 1-0 lead.
Three minutes later he was it again as this time it was Luka Modric with a super service to Benzema who again managed to head the ball into the net to double Real Madrid's lead.
In the 30th minute it was Militao again off a Toni Kroos corner but this time his header went right into the hands of Mendy. Chelsea reduced Madrid's lead to one as Kai Havertz in the 40th minute was able to head one in past Courtois.
A minute into the second half Real Madrid regained its two-goal lead as Benzema was able to intercept a weak pass from Mendy the keeper who was out of his net and managed to shoot the ball into the empty cage.
Cesar Azpilicueta had a great chance to score but Courtois came up with an even better save in the 50th minute of the game as Chelsea was starting to press looking to get back in the game.
Havertz had another chance at goal in the 80th minute but this time it went right into the hands of Courtois and four minutes he did it again as he denied James who took a shot from outside the box.
The final whistle blew after five minutes of added time and Real Madrid had pulled off an impressive win on the road thanks to another hat trick from their star striker Karim Benzema.
Coach reaction
We played a great match. We approached it well, we played well. With courage and personality. It was a good one."
The return leg is scheduled for next Tuesday, April 12th in Madrid at the Estadio Santiago Bernabeu where Real Madrid will look to book their spot in the semifinals of the UEFA Champions League.