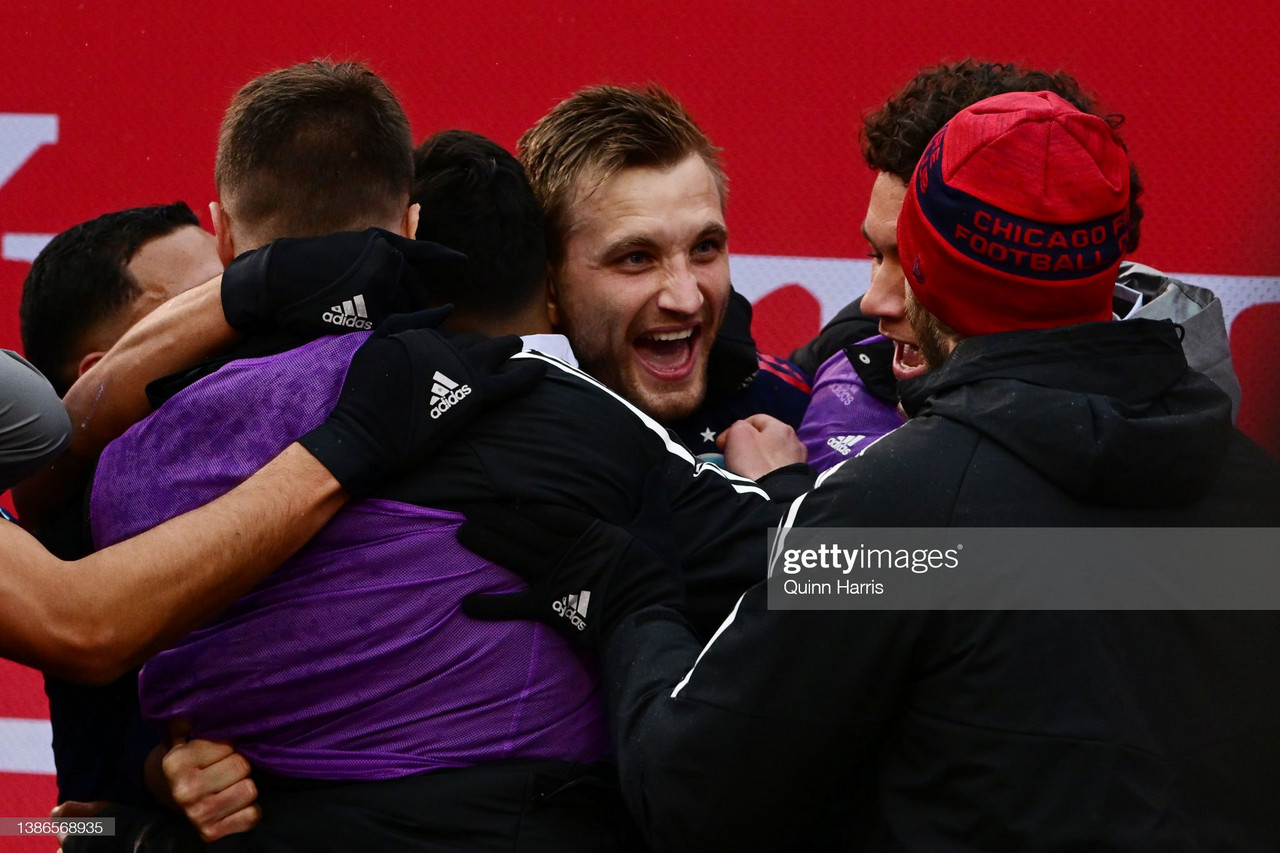 The Chicago Fire's start to the 2022 season has certainly been an interesting one.
On paper, it's been elite. They have yet to lose a single game, and they've picked up nine points from their opening five contests. As a result, they're all the way up to 4th place in the Eastern Conference.
However, when you look at how things have been going on the field, the water gets a little murky. Chicago's certainly not playing incredibly well, and the way they've gotten some points has been really ugly. Their current style of play is quite boring, which isn't the most important thing, but it does lead to some frustrations.
So, are they good? Not really. They're not bad, either. It's kind of a whole thing.
The good
Let's start positive.
As mentioned earlier, the stats are looking quite nice for the Fire. Two wins and three draws is a quality return at this stage of the season, and it's got them quite high up in the table as a result. Five goals in as many games is alright on the surface, but it's the goals against where the team stands out.
Chicago has only conceded a single goal this campaign, which means that they've already secured four clean sheets. A lot of the credit will go to teenage sensation Gabriel Slonina, who has been good, but he's not really had to make many saves. Instead, there are two men who deserve most of the praise.
One is new head coach Ezra Hendrickson. He's hit the ground running in his first go as a head coach at this level, with his tactics turning the defense around in record time. His 4-2-3-1 system with two pretty defensive midfielders has given the team strength and solidity at the back, and even though it's not the most attractive brand of soccer, it gets the job done.
However, there's no point of having the right set up if you've not got the right players. The likes of Boris Sekulić, Wyatt Omsberg, and Miguel Navarro have been good, but the arrival of one man has made everything click. That man is Rafael Czichos.
Whisper it, alright, but Czichos might be too good to be playing in Major League Soccer. A staple of Bundesliga side FC Köln in recent years, the centerback helped keep that team in the top-flight on a number of occasions. He often found himself in massive games at the highest level, and those trials by fire made him the player he is today.
In comparison, MLS is almost child's play. The Saudi-born German is the epitome of composure when out on the pitch, dealing with every situation thrown at him with calmness and confidence. It looks like he's playing in the park with friends at times.
Czichos' presence is also making everyone around him better. Since he's there to clean up any potential messes, the rest of the backline knows that they've always got someone protecting them. The centerback is a leader, and others must love playing alongside him as a result.
The Fire's elite defense has allowed them to pick up points despite not playing too well. Since this unit has been so good, the players further up the field know that they'll only need one goal to secure at least a draw, if not a win.
Is it the most exciting way to play the sport? Of course not. Style doesn't get you anywhere, though, it's the final result that's what matters. And, considering how things have gone so far, life is looking good for Chicago.
At the very least, there's clear signs of improvement when compared to previous iterations of this team. Now, that's not the most difficult task considering how bad the Fire have been in the past, but it's nice to see the team not actually stink up the place every week. They've already picked up a road win for crying out loud.
They've quickly found a formula for securing points, and there's a good chance that they'll continue to do so as the season goes on.
The bad
When you dig a little deeper into things, though, there's reasons to be concerned.
As mentioned earlier, Chicago has scored five goals in five games, which averages out to one a game. That in itself isn't bad, and it's more than a number of teams have scored this season. However, let's look at all those goals separately.
It took the Fire over 210 minutes to grab their first goal of the campaign, with it coming near the half-hour mark of their third contest against D.C. United. The set-up was lovely, as a backheel from Fabian Herbers laid the ball off perfectly to Xherdan Shaqiri. This is where things got weird. Shaqiri then tried playing the ball to Stanislav Ivanov, but defender Brad Smith was seemingly in the right place to clear the danger away.
Instead of that happening, the ball somehow glitched through Smith like it was in a video game, which led to a strange deflection. That led to the ball taking an odd bounce on the ground, and it ended up falling perfectly for Ivanov, who was able to dink a finish past an onrushing goalkeeper. The more you watch this goal, the less real it seems.
Chicago's second goal of the game was quite nice, to be fair, as it came via an extended spell of possession that saw nearly everyone touch the ball. Could keeper Bill Hamid have done better to block Jonathan Bornstein's volley from close-range? Maybe, but the ball was hit so cleanly with so much pace that it's hard to blame anyone for that going in.
The Fire returned home to Soldier Field the following week, and once again they'd find the back of the net near the 30 minute mark. If the most recent goal wasn't via a goalkeeping error, then this one certainly was.
Kacper Przybyłko was slipped into space on the counter, and he decided to have a go for goal near the edge of the area. This decision wasn't a wise one, as he was at a bad angle, and there was a defender only a few feet away. With these factors in mind, it should've only taken an incredible finish to score from here. His strike ended up being a poor one, and the ball flew right at the goalkeeper.
Well, correction, the ball flew right through the goalkeeper. Despite MLS icon Tim Melia being in net, he allowed the shot to slip right through his legs and into the back of the net.
It was 2-0 five minutes into the second half. This goal had practically no build-up play, as Shaqiri simply slotted home a penalty kick after Mauricio Pineda went down in the area. The call didn't seem like the right one, though, as there was barely any contact, and the contact that was made was very light. It was given nonetheless.
The final goal of proceedings was similar to the first. Good work from Brian Gutiérrez set up Przybyłko in the box, but his finish wasn't great, as he hit the ball right down the middle once again. However, just like before, the ball squeezed through Melia before crossing the line. This one wasn't as bad as the first, but you could tell the goalkeeper was upset with himself after conceding it.
That was the last goal scored by Chicago, as they were held scoreless by FC Dallas at home. So, not only have they just scored five goals, but almost all of them have been a little fortunate in some way or another.
If the team was creating loads of chances and was struggling to finish, then that wouldn't be as big of an issue since the conversion rates would even out eventually. Instead, the Fire are having a tough time carving out opportunities, especially at home.
In the two games they tied 0-0 at Soldier Field, the Fire had an xG (expected goals) figure of 0.6 in each contest. They may have scored three against Kansas City, but their xG for that match was only 1.4, less than half the amount they actually got. Things are a bit better on the road, which is odd, but that might be because of the teams they played.
There are some reasons for their woes going forward. The main one is their focus on the defensive side of the ball, which makes sense. The more people you have back, the less you'll have in the attacking third. Then there's the way they're currently set up.
With two wingers, an attacking midfielder, and a lone forward, Chicago sometimes has to rely on individual talent to make something happen. Fabian Herbers and Stanislav Ivanov are both reliable attackers, and they are good in other areas, but they aren't the most magical talents. Kacper Przybyłko, meanwhile, is a striker that needs service from his teammates, so you can't really expect him to create an opportunity on his own.
Then there's Xherdan Shaqiri. Signed in the offseason to incredible fanfare, the Designated Player has admittedly been a bit disappointing. His only goal came from the penalty spot, and his lone assist really shouldn't have gotten through the defender like it did. He's not really had an impact on games either.
The Swiss international is clearly an exceptional player, and he's showcased his technical ability time and time again in midfield, providing highlight after highlight with a cheeky pass or a lightning-quick dribble. However, once Shaqiri gets into the final third, things go quiet. He's just not able to create chances for himself or others, and that's what he was brought in to do at the end of the day.
It's not all his fault, to be fair. Head coach Hendrickson has decided to use him in the number 10 spot, which just isn't his natural position. Shaqiri can do a job there, of course, but he's not completely comfortable there. That is proven by his heat maps, as he often drifts out to the right-hand side, where he's more used to playing.
He'll probably be stuck in the attacking midfielder position until Jairo Torres arrives in May since the club might not have another option at the moment. That is a shame, as the Fire should be trying to get the most out of their star man. Who knows how a change could affect the rest of the team, but one might be needed for Shaqiri's sake.
So, even though Chicago has been getting results, they've not looked great doing so, especially when it comes to their main attacker. What makes things worse is that they're not even playing in front of a lot of people.
A move to Soldier Field was supposed to fix everything, or at least that's what the club thought. SeatGeek Stadium (formerly known as Toyota Park) was often blamed for the Fire's bad attendance figures since the venue was located in the suburb of Bridgeview.
The change was initially a cursed one. The 2020 season was the first one back at Soldier Field, but the Covid-19 pandemic meant that all games in the city were played behind closed doors that campaign. They were allowed to bring in some fans to start 2021, and eventually they were able to fully open up the stadium by the end of the season, but pandemic-related concerns meant that things still weren't back to normal.
That's why 2022 was seen as a big year. There were no more restrictions in terms of capacity, and with the number of cases dropping low, now was the time for fans to flock to the stadium. That hasn't happened, though.
Opening weekend seemed like a strong start to proceedings since Chicago pulled in over 25,000 supporters. There were some caveats to that, as home openers usually have the best attendance, and there were talks that the club gave away a decent amount of tickets.
The second game saw a pretty steep drop off. Fewer than 10,000 people were at Soldier Field, and the weather wasn't even too bad. There was hope that the team's promising opening to the season meant that more people would start showing up, and that was somewhat true since the attendance barely passed the 10K mark the following week despite woeful weather.
That's still not good enough, though. The Fire might have possibly been able to get away with these figures back in Bridgeview where the stadium was smaller, but that's not the case anymore. Soldier Field is huge in terms of MLS venues, so it comes across as cavernous when the crowd is small.
Chicago's next home game will have a decent attendance, but that is because Javier "Chicharito" Hernández will be in town with the Los Angeles Galaxy. The contest after that will be a big test. If the Fire can't pull in a solid crowd, especially if they're still winning, then they'll be in trouble.
The weird
Then, as per usual with this club, there's been some outright strange.
First of all, we've got to talk about Gastón Giménez. Well, we have to talk about how the Fire talks about Gastón Giménez.
The midfielder has been good to start the season, sure. He's certainly improved when compared to last year, and he's definitely trying more. Giménez still hasn't been phenomenal, though, and there have been moments where he's been lazy. He's not a top-tier Designated Player, that's for sure.
However, it seems like Chicago would like supporters to feel otherwise. The commentary team is always quick to highlight Giménez during games, taking note of his aforementioned improvement. Every nice pass or clever play is lauded, and it just does not stop. There's also been stuff on the website, and any comments from head coach Hendrickson are always mentioned as well. However, not nearly as much is said about Mauricio Pineda, who is playing right next to him, and has been just as good.
But why? Well, Giménez was re-signed as a DP this past offseason in a move that many in the fanbase did not like. This could be the club effectively telling supporters, "Hey, look at how well he's doing! We definitely haven't wasted money and a Designated Player slot on him!"
There's no way to prove that this is true unless something gets leaked out, and I very well could be biased since I don't rate Giménez at all, but it's been something that's bothered me.
In other news, Jonathan Bornstein is a winger now apparently. When he was first subbed on there versus D.C. United, many were probably wondering what in the world was going on. The move paid off handsomely, though, as he ended up scoring the goal that put the contest to bed.
Since then, the former American international has been a consistent attacking presence off the bench. Against Kansas City this made some sense, as his defensive ability meant that he could help support the backline in terms of holding on to the slim lead.
Versus Dallas, though, this did not. The Fire didn't have to score in that game, of course, but they were the home team, so the pressure was on them to grab a winner. They ended up failing to do so, and Bornstein wasn't able to make an impact in the final third. You know, since he's an older defender and whatnot.
Speaking of the lineup, there's been almost zero rotation when it comes to who's starting and who's on the bench. Chicago have practically named the same starting XI in every game this season, and the only change that has been made was when Rafael Czichos had to miss out versus Dallas, so Mauricio Pineda filled in for him at the back while Federico Navarro came into the vacated midfield spot.
The famous saying is that you never change a winning formula, so it's hard to blame Hendrickson for sticking with what's worked. However, it's rare to see consistency to this extent, and it could lead to problems down the line. At one point the absences will begin to mount and the games will come faster and faster, so the Fire will have no other choice than to rotate the squad. Will the players who have spent the whole season on the bench be ready when it's their time to perform? That is not clear.
Then again, Chicago were still able to secure a clean sheet without the services of Czichos, who I ranted and raved about earlier.
That kind of sums up everything, really. No matter what happens on or off the field, the Fire just keeps playing, and they keep getting results. The performances haven't been great, but that might not even matter anymore. It seems like almost everyone in MLS is struggling in one way or another, so it doesn't take much to pick up points on any given week.
What does this mean for the future? Honestly, who even cares about the future at this stage? Chicago fans are having a good time for the first time in years, so they couldn't care less about the potential dip in form that's probably coming sooner or later.
No more thoughts, just soccer.