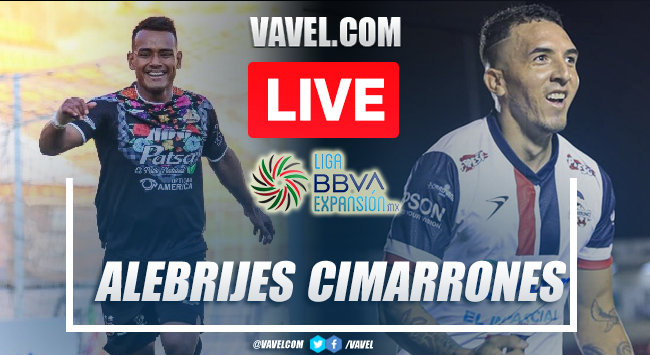 Relive the match
Thanks
End game
96'
93'
90'
89'
85'
84'
78'
77'
74'
71'
69'
69'
64'
59'
54'
50'
46'
46'
Half time
45+3'
45+2'
45+1'
45'
43'
36'
29'
28'
23'
17'
11'
6'
4'
0'
Minutes away
Leaving Oaxaca?
Cimarrones substitutes
Alebrijes substitutes
XI Cimarrones de Sonora
XI Alebrijes
They wear white
They have arrived
Which team would you go against in the semifinals?
New story
Start
Tune in here Alebrijes vs Cimarrones Sonora Live Score in Liga Expansion MX 2022
What time is Alebrijes vs Cimarrones Sonora match for Liga Expansion MX 2022?
Last games
Key player Cimarrones Sonora
Key player Alebrijes Oaxaca
Last lineup Cimarrones Sonora
Last lineup Alebrijes Oaxaca
Cimarrones: Champion's luck?
Alebrijes: a different story
The Kick-off
Welcome to VAVEL.com's LIVE coverage of the Liga Expansion MX 2022: Alebrijes vs Cimarrones Sonora!