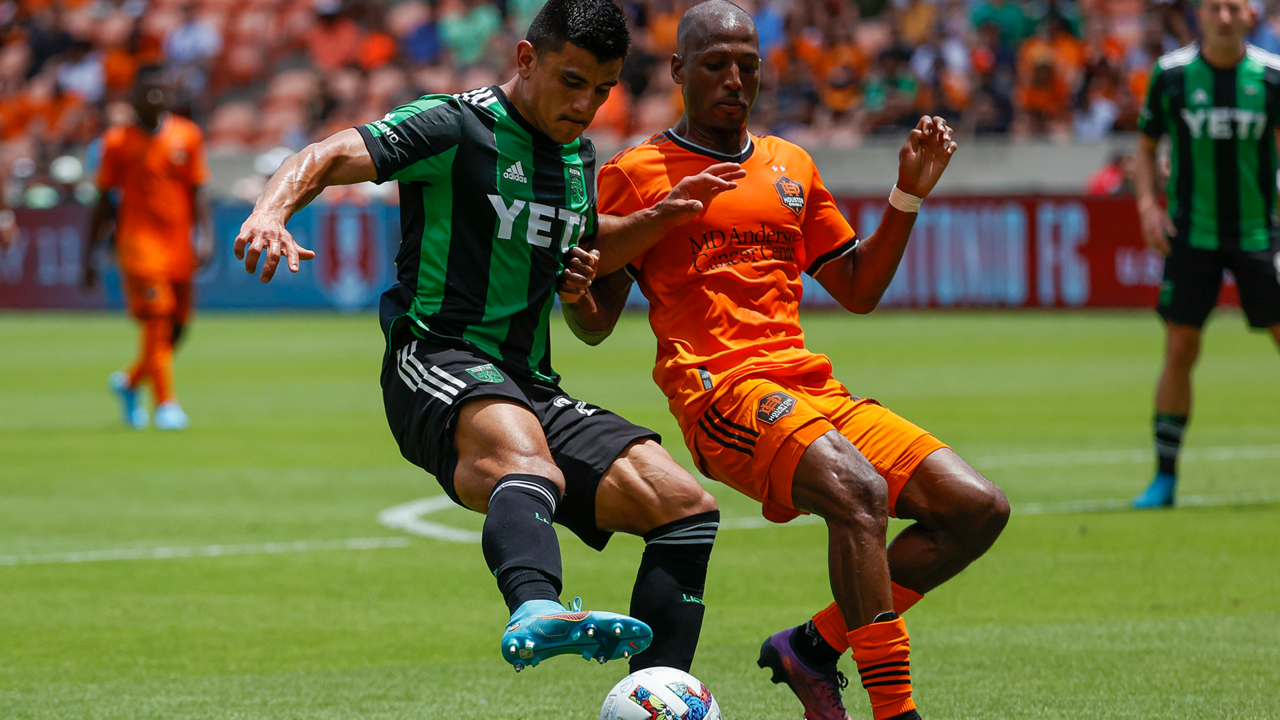 Austin FC continued their remarkable start to the season as they claimed a 2-1 victory over the Houston Dynamo in the latest Copa Tejas derby at PNC Stadium.
Sebastian Ferreira put Houston in front with a remarkable effort from beyond the halfway line just five minutes in.
Daniel Pereira equalized in the 39th minute and MVP leader Sebastian Driussi netted the match-winner in the 66th minute as Austin sit second in the Western Conference.
Story of the match
Both teams nearly opened the scoring in the second minute. Austin goalkeeper Brad Stuver attempted to play the ball back into the offense after being well off of his line.
Darwin Quintero got it and tried to play it off which could've led to a long distanced chip. The ball would go to the Verde and Black, who quickly transitioned and tried to pull a shot at Houston keeper Steve Clark, but he made the save and the following play was ruled offside.
Stuver again ventured well off his line and it led to the opening goal. Ferreira gained possession, looked upfield, and found the back of the net from well inside his own half to give the Dynamo a 1-0 lead.
The Verde and Black shot-stopper couldn't paw the ball out of goal and subsequently suffered an injury forcing him to exit the match on a stretcher.
Austin nearly struck back as Tim Parker was dispossessed, which set up a chance for former Houston man Maxi Urruti, but Clark was on hand to make the easy save.
Andrew Tarbell was called into action after he came in for Stuver, who injured his knee on the Houston goal and he saved a knuckling shot by Quintero.
The hosts nearly doubled their lead when Adalberto Carrasquilla sent the ball over the back line and he found Parker, but his flick went out for a goal kick.
That would prove to be a costly miss as the Verde and Black leveled when Ethan Finlay found room down the left and his cross picked out an unmarked Pereira, who touched it home.
Fafa Picault fashioned a chance for Houston in the second half as he drew a foul from Alex Ring close to the 18-yard box, but the ensuing free kick was straight at Tarbell.
The visitors then took the lead following a quick restart saw Diego Fagundez pick out Driussi and after a few touches, he bent the ball past Clark to make it 2-1.
Man of the match: Daniel Pereira
Last year's top overall pick in the MLS SuperDraft scored his first-ever league goal and if he can continue to evolve his attacking game to go along with his stellar defensive work, he'll yet be one of the fine young players in the league.