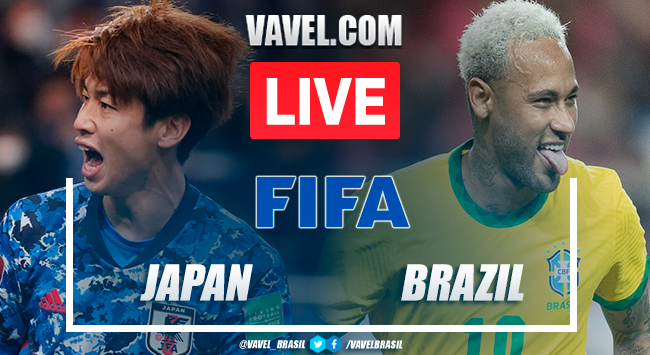 What's Coming
⏱️
⏱️
48'
45'
40' Substitutions in Brazil
35' Substitution in Japan
34' Yellow card for Brazil
32' GOAL BRAZIL
29' PENALTY FOR BRAZIL
29' ON THE TRAVE
27' Substitution in Japan
24' Substitutions in Brazil
21' Substitution in Japan
19'
18'
15' Substitutions in Brazil
10'
8' Yellow card for Japan
7'
4'
1'
00'
Substitution in Japan
46'
45'
41'
40'
38' WATCH THE DANGER
34' Yellow card for Brazil
33'
32'
26' WOW
23' LOOK AT THE WICKEDNESS
21'
18' GONDA
15'
10'
8'
7'
5'
2' ON THE TRAVE
1'
00'
⏱️
⏱️
⏱️
Substitutes for the Brazilian National Team
Brazil with its 11
Blue Samurai reserves
Japan lineup
20 years of the fifth championship
Retrospect
Video Refereeing
Field Referee
How and where to watch the Japan vs Brazil match live?
This is the start time of the game Japan vs Brazil of 6th June 2022in several countries:
Canarinho team at the National Stadium
Speak up, Tite!
Squads of Brazil
Stuttgart's Hiroki is called up for the first time for the senior national team
Speak up, Moriyasu!
Squad Japan
Latest results from Brazil
And the Brazilian National Team
Latest Results from Japan
How the Blue Samurai come
Last friendly match
Welcome to VAVEL.com's coverage of the International Friendly match: Japan vs Brazil Live Updates!