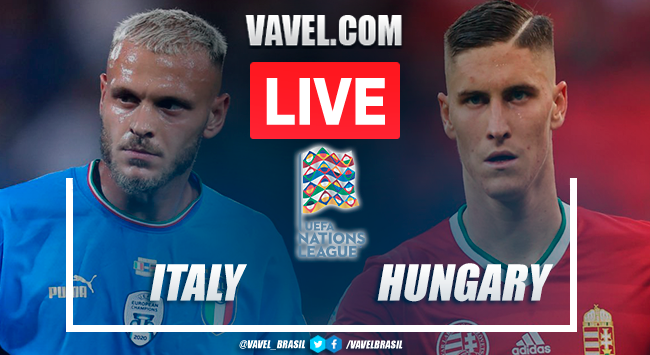 Upcoming games
How it looks
⏱️
⏱️
94'
91' Yellow card for Italy
90'
90'
87' Substitutions in Hungary
83' Substitutions in Italy
80' Substitution in Hungary
75' Substitutions in Italy
70' Yellow card for Hungary
68' ALMOST
65' Substitution in Italy
63' Yellow card for Italy
60' GOAL HUNGARY
57' Substitutions for Hungary
54' ON THE TRAVE
52'
47'
45'
⏱️
⏱️
45'
44' GOAL ITALY
42'
36'
34'
30' GOAL ITALY
28'
25' DONNARUMMA
21 WOW
20'
19'
8'
6'
5'
1'
00'
⏱️
⏱️
There is time
Magicians' Substitutes
Hungary lineup
Azurri reserves
Italy lineup
Video Refereeing
Field Referee
How and where to watch the Italy vs Hungary match live?
What time is Italy vs Hungary match for Nations League?
Speak up, Marco Rossi!
Squad Hungary
Speak up, Roberto Mancini!
Squad Italy
The Golden Team
Azurri
Eye on the Game
Welcome to VAVEL.com's coverage of the Nations League match: Italy vs Hungary Live Updates!