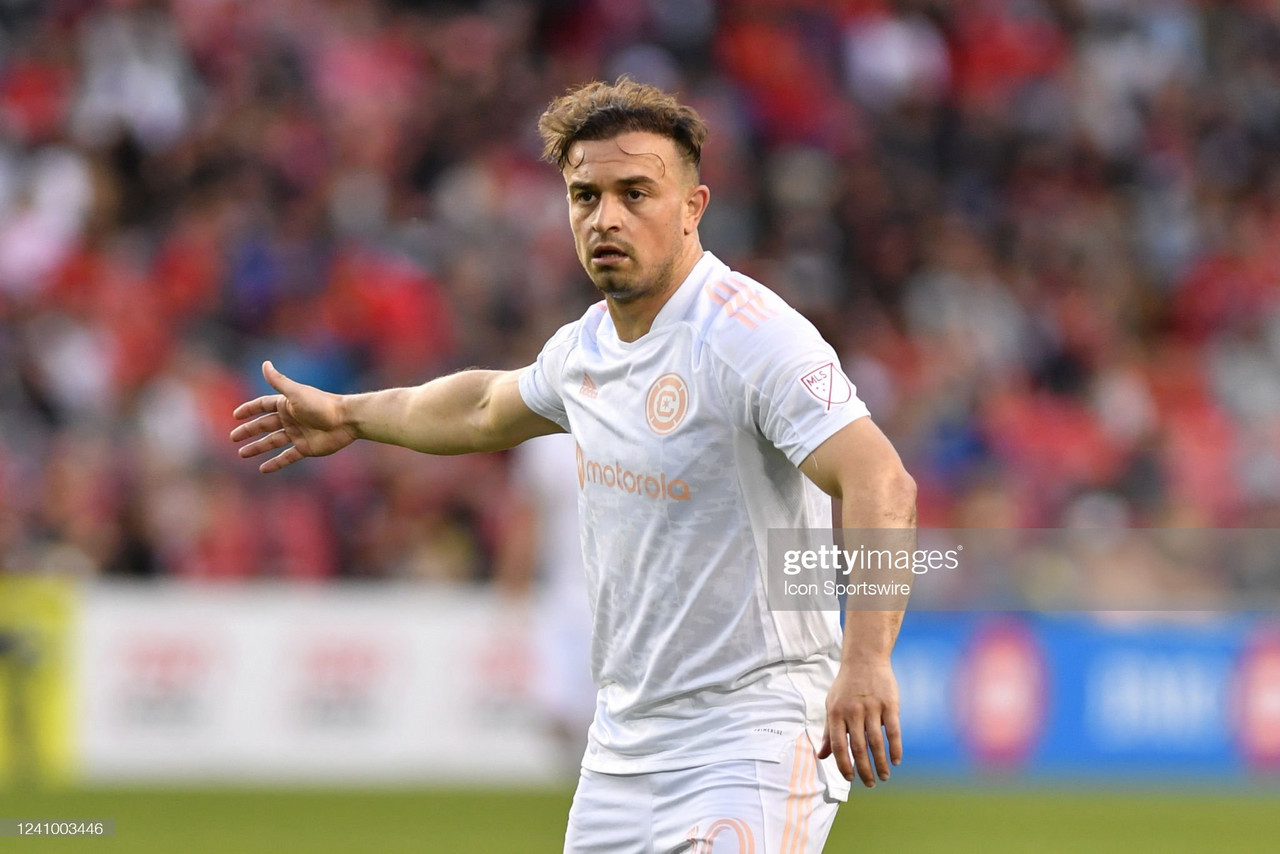 The Chicago Fire are in the midst of a three-week break, which has come at a good time for both the club and its supporters.
For the team, it has given them some time to try and fix a few of their many problems. Some are on the injury front, so the break should allow everyone to return to full fitness. Most of the others come on the tactical side of the ball, and there's hope that head coach Ezra Hendrickson has made the most of the opportunity to tinker with his lineup.
For the supporters, it has given them a break from the heartbreak they have had to endure on a seemingly weekly basis. The cycle of optimism followed by bitter disappointment and sadness has been stopped for now, and it's been a nice change of pace for fans.
So, what's been happening with the club? Well, not really much of anything. There's no new signings to report on, and even the rumor mill has gone pretty quiet. It doesn't seem like any help is coming, so Chicago are effectively stuck with what they have.
With that in mind, there are a few things to talk about.
Persistence is (not) key
In the Fire's most recent game, a loss away to Toronto FC, Hendrickson made a pretty baffling decision.
Long story short, star signing Xherdan Shaqiri had been forced to play in an unnatural position the entire season, being used centrally instead of out wide. That was because the Fire didn't really have anyone to put up the middle, as no one on the roster really fit into the role either.
That was seemingly until the arrival of Jairo Torres. The Mexican's signing was a big deal, and fans could not wait to see him officially join the club at the start of May. Injuries delayed his start to life in the Windy City, but he was finally healthy enough to start versus Toronto.
Since he was ready to start, it looked like it was time to see someone else up the middle, and Shaqiri out wide. Unbelievably enough, that's not what happened. Torres was forced out wide, and the Swiss captain kept his spot in the lineup.
To almost no surprise, it didn't really work, and the same issues continued to arise. Shaqiri kept drifting out wide, leaving a gap in the middle and the team unbalanced. Torres didn't really know where to go as a result. Even though the former did get an assist, that only came when he ended up on the wing following a set-piece.
The Fire played well for most of the contest, to be fair, but that was almost certainly because they were up against a woeful Toronto team who still won the game when all was said and done. Doing the same against a better side will only lead to an even worse result.
The decision also made Hendrickson seem like a stubborn manager who doesn't want to admit that he's wrong. Shaqiri as a number 10 just isn't working, but it looks like Chicago are going to keep trying him there until things somehow improve or everything finally falls apart.
Hendrickson does have one more chance to save himself and make the right call. There is an argument that keeping the lineup as is for that Toronto game made some sense since it was the final match before the break and you might as well see what Shaqiri can do up the middle with support around him.
However, that won't be the case next time around. The Swiss superstar needs to finally go out wide, and Torres has to be used in the center. If Hendrickson still refuses to change, then it might very well be time to worry about the head coach's future.
Stuck
Speaking of the starting lineup, it seems like the Fire might be stuck with the formation they have.
Usually when a team is in a slump, the head coach will try to freshen things up by tinkering with the lineup. Maybe they'll start using two up front instead of one. Maybe they'll go from a back four to a back three. The change could be even more subtle, like pushing one of the center midfielders further up the pitch.
However, I don't think Chicago can do something like that with their current personnel.
The team's three best attacking players are the aforementioned Shaqiri and Torres, plus recent arrival Chris Mueller. All three are probably best on the wing, but at the very least one can be used in the middle, specifically Torres. None of them are able to play too far back, and although someone could be used as a false nine type of striker, it's highly unlikely that it would be effective.
So, that means a natural striker needs to be added to the lineup, even if the Fire's current crop isn't the greatest. There's the front four, and with that many bodies going forward, there needs to be some at the back.
A back three or five is possible in theory, but that would be asking for trouble defensively because then the team would be left with only one defensive midfielder. That's not enough cover, and bringing in a second body in the middle means that the side has to use a back four since they're ultimately only allowed 11 players on the field.
That formation would be a 4-2-3-1, which is the exact formation Chicago has been using this entire season. They're pretty much stuck with it now, so it's up to Hendrickson to try and find subtle tweaks he can make to it in order to improve results. He should start by swapping Torres and Shaqiri around, of course, but everyone already knows that already.
#ArloOut?
This one really sucks for the Fire and its fanbase.
Last year, in a season full of lowlights, one of the few highlights was the addition of Arlo White to the team's broadcasting booth. Sure his run was short, as he was only in for a few games during the summer, but it was still an excellent bit of business nonetheless.
One of the best commentators on the planet, White was a figure that plenty loved listening to, and his presence helped legitimize Chicago as a serious club. His impact went beyond that run as well, as he then started hosting a podcast with Fire commentator Tyler Terens.
When news dropped that White would be returning this season, fans were obviously excited. However, the feeling has since faded, and it's not even because of something the Fire did.
After his contract with NBC Sports came to a close, White decided to join LIV Golf to become their lead commentator for the foreseeable future. That organization is quite a problematic one, as it's a circuit funded by the oppressive Saudi Arabian government. There's a lot more to it on the political side, of course, but the main thing here is that this is not a move that many are happy with.
A simple search of his name on Twitter demonstrates just how much people have turned on him, and understandably so. Chicago hasn't yet, though, as according to a tweet from Brian Sandalow, "Per a team spokesperson, Arlo White will remain on the call for Fire matches. The Fire were notified before this became public."
That might not be the right play, though. White's brief stint was previously seen as a nice change of pace and an injection of top-tier commentary. Now, when he does eventually join for a few games, his arrival will be met with disappointment and anger.
It's better to just leave things as is, especially since some have started to finally warm up to the pairing of Tony Meola and Tyler Terens.
Ok, maybe that's just me.