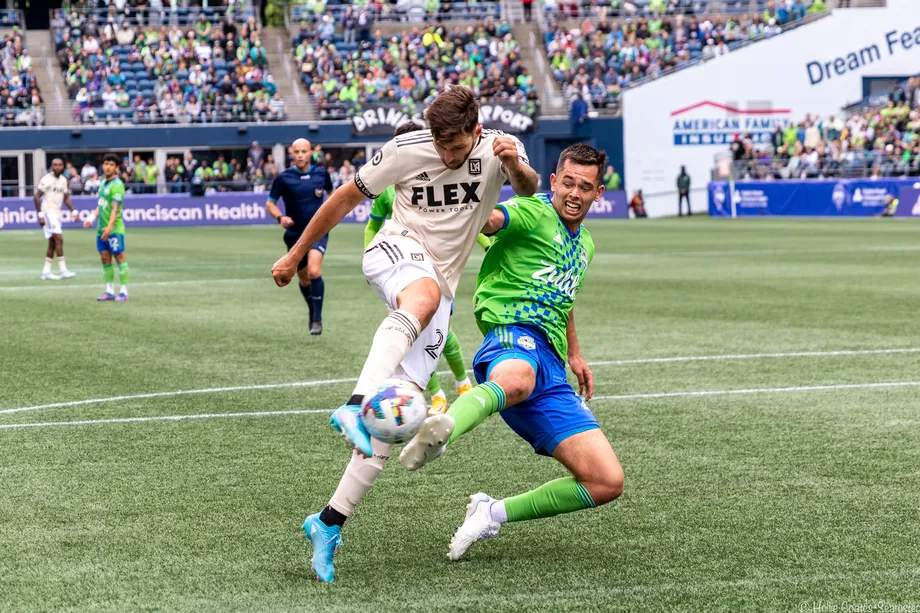 The Seattle Sounders and LAFC played out an entertaining 1-1 draw at Lumen Field.
Albert Rusnak opened the scoring for Seattle in the 58th minute after taking advantage of sloppy play by LAFC only to see Cristan Arongo level with a header in the 79th minute.
The result keeps the Black and Gold top of the Western Conference while Seattle remains unbeaten on their current five-match homestand.
Story of the match
Seattle got off the first shot of the match in the 12th minute as a short corner set up Alex Roldan to find the head of Jordan Morris, but he mistimed his effort.
On 28 minutes, LAFC got out on a quick corner, but Stefan Frei made himself big to block the shot.
In the 39th minute, Morris picked out Albert Rusnak from the penalty spot, but he skied his effort over the bar. Four minutes later, Frei made a kick-save to prevent LAFC from taking the lead.
Three minutes after the restart, Rusnak fired one from outside the box that Crepeau caught, Cristian Roldan following up, but also going off target.
Rusnak then picked off a pass by Black and Gold goalkeeper Maxime Crepeau that was intended for Ilie Sanchez and calmly deposited it into the back of the net on 58 minutes.
Frei then spared Seattle's blushes six minutes later, making a save from point-blank range on Ryan Hollingshead then followed by denying Cristian Arongo's rebound.
The visitors did equalize in the 79th minute as Danny Trejo flicked the ball with his head to a running Arongo, whose looping header found the far corner.
On the last touches of the contest, Rusnák and Will Bruin worked the ball down the field before finding Jimmy Medranda with a square pass, whose shot is handled by Crepeau.
Man of the match: Jordan Morris
He was all over the pitch in this one, causing LAFC problems nearly every time he touched the ball. Operating as more of a creator rather than a finisher in the Seattle attack, his play on the wing and in space are causing teams problems.
Every time he moved towards goal, he drew defenders to him and was able to pick out teammates in space for even better chances than what he may have.