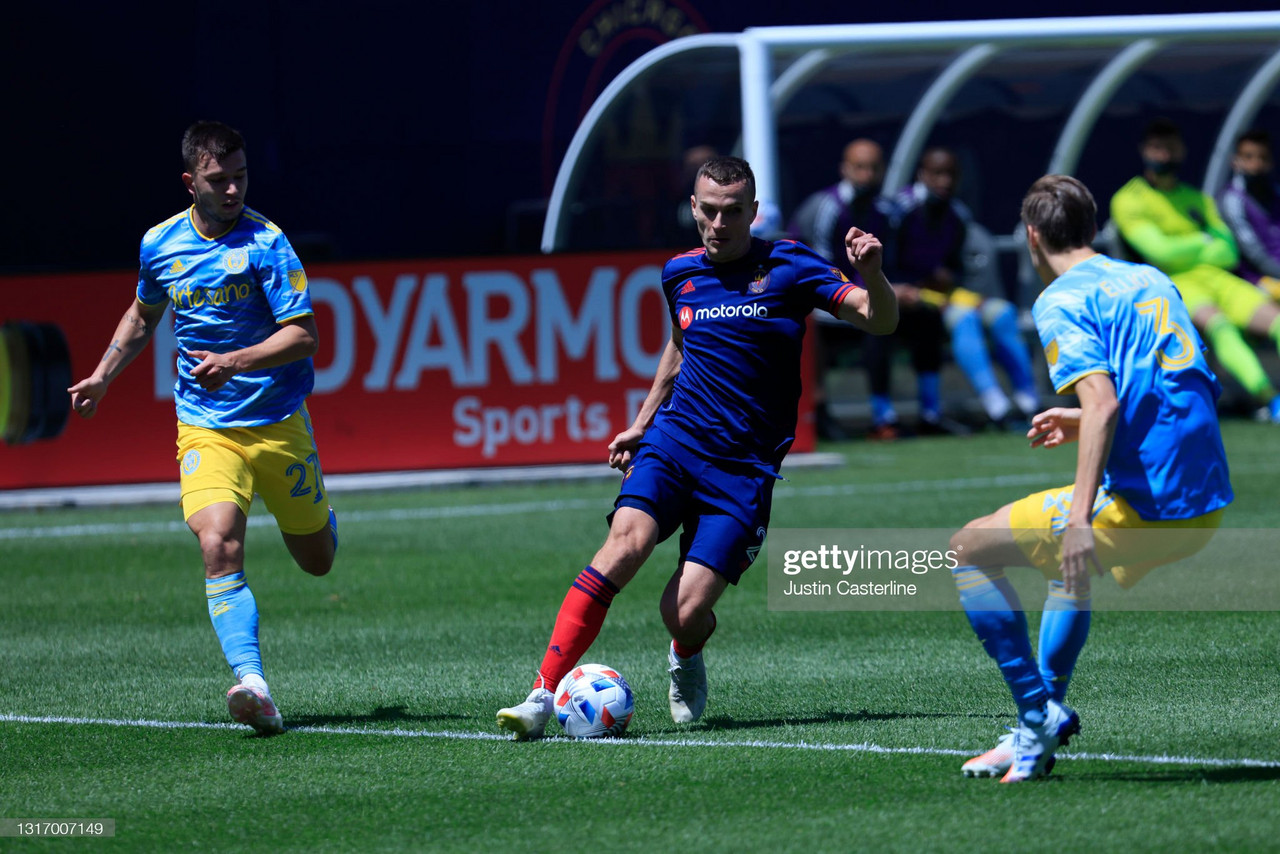 There are few things quite like midweek MLS, and that's exactly what we've got this week as the Chicago Fire hosts the Philadelphia Union at Soldier Field on Wednesday night.
The two sides had very different weekends.
Chicago lost on the road once again, this time falling to the Houston Dynamo 2-0. They were quite flat at the back and going forward, and it was simply one of those ugly defeats fans have gotten used to.
Philadelphia, meanwhile, experienced the other end of the emotional spectrum as they beat the reigning MLS Cup champions NYCFC 2-1 thanks to a stoppage time winner. Not only was it a big win, but it was a cathartic one following what happened during last year's playoffs.
As a result, they'll come into this contest in contrasting spirits. Will that affect the score of the match? Time will tell.
Team news
Chicago is still going through a bit of an injury crisis at the moment, with Chris Brady, Kendall Burks, Miguel Navarro, Wyatt Omsberg, Mauricio Pineda, and Jairo Torres all unavailable for selection, while Federico Navarro is a doubt.
Things are much better for Philadelphia on that front, as Jesus Bueno is the only player who has any chance of missing out.
Predicted lineups
Chicago Fire: Slonina, Sekulić, Terán, Czichos, Bornstein, F. Navarro, Giménez, Herbers, Shaqiri, Mueller, Durán
Philadelphia Union: Blake, Herriel, Glesnes, Elliott, Wagner, Bedoya, Martinez, Flach, Gazdag, Uhre, Burke
Ones to watch
Carlos Terán
Before contests like this, the players to keep an eye on are usually the team's best or most important players. Maybe they've been excellent as of late, or maybe they're a quality player who can win their side the contest at any given moment.
In the most respectful way possible, this isn't one of those instances.
Carlos Terán has been one of Chicago's worst players this campaign. Forced to fill in whenever the likes of Rafael Czichos, Wyatt Omsberg, and Mauricio Pineda were unavailable, the center back only recovered from an injury of his own a few months ago.
Whenever he's been called upon, the Colombian has struggled. He does have some impressive physical attributes, like his raw speed and strength, but they just don't make up for his tactical and technical limitations.
Terán loses his marker way too easily, and a simple run from a forward will put them into acres of space. He dives into challenges too often, which leads to him giving up fouls, whether they're free-kicks or penalties. He's not good on the ball either, as he usually just clears it away instead of trying to find a teammate.
There's a chance he can become a decent player since he's still only 21-years-old, but at the moment, he's a liability for the Fire. He's almost certainly going to have to start again this time around, so that could spell trouble for the team.
Hopefully for everyone's sake Terán can finally step up to the plate.
Cory Burke
It's that time again.
All things considered, Cory Burke is not one of the greatest strikers Major League Soccer has even seen. He's been good, scoring 25 goals over the course of 89 appearances, but he's never been an elite level player.
That is, unless he's playing the Chicago Fire.
There's just something that happens whenever the two forces meet, and that something is usually Burke finding the back of the net. In seven matchups he's scored eight goals, which is a remarkable return. He's even dished out an assist in that time.
There's no reason to expect things to be different on this occasion. The Jamaican has had a pretty rough season, but he just scored a stoppage time winner for Philadelphia in their last game, even if that goal was beyond ugly. More importantly, as mentioned earlier, Chicago has struggled defensively, so there will almost certainly be openings at the back.
Can Burke add to his seemingly ever-growing tally on Wednesday? Probably, yeah.
Last time out
It's been a little over a year since these two sides last faced off, but it kind of feels like it's been a lot longer.
Chicago took a surprise early lead after just 10 minutes. Boris Sekulić was given too much space out on the wing, which allowed him to pick his head up and loft a superb cross into the area. The ball ended up picking out Przemysław Frankowski, and his header from close range flew into the back of the net past an outstretched Andre Blake.
Things would go very bad very quickly for the Fire just past the half hour mark, though. It started when defender Wyatt Omsberg was sent off following an apparent denial of a clear goal-scoring opportunity. The whole situation was weird, as it was kind of a foul, but also not really, and the exact location of the foul was also hard to figure out.
Then, from the proceeding free-kick, Philadelphia equalized. Kai Wagner stepped up and blasted a low drive under the wall and in, although the ball probably shouldn't have gone through since Chicago had someone laying down under the wall. However, he got out of the way, giving the shot an easy path to goal.
Even though the Union were up a man and at home with an entire half left to go, they couldn't find a winner. They didn't really come close, as they were sloppy following the break, and everyone was just off their game.
The scoreline stayed at 1-1 as a result, so the points were shared.
How to watch
The match kicks off at 7:00 p.m. CDT, and it will air live on WGN TV and chicagofirefc.com for fans in Chicago and WPHL-TV PHL17 and philadelphiaunion.com for fans in Philadelphia. Anyone else in the United States will be able to watch the action unfold on ESPN+.