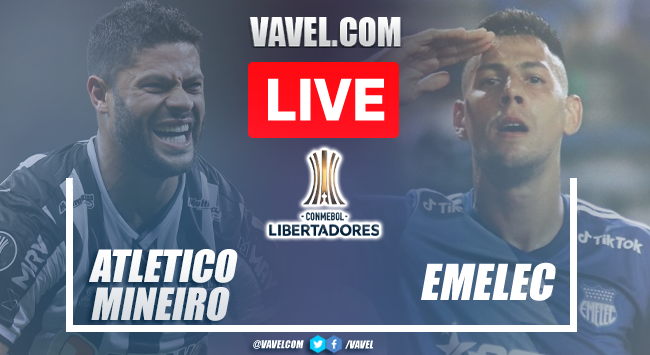 SUMMARY
THANK YOU FOR FOLLOWING THE COVERAGE ON VAVEL
THE GAME IS OVER
79´
78´
70´
60´
56´
THE SECOND PART BEGINS
THE FIRST PART IS OVER
37´
28´
23´
15´
11´
4´
THE GAME KICKS OFF
IN A FEW MOMENTS WE BEGIN
READY THE LINEUPS
HOW THE PREVIOUS MATCH WENT
THE WORDS OF EMELEC'S DT
WHEN WILL THE QUARTERFINALS BE PLAYED?
WHERE WILL THE FINAL BE PLAYED?
THE WINNER OF THE KEY
THE OPENING MATCH OF THE SECOND ROUND
THE WAIT IS OVER
Tune in here Atletico Mineiro vs Emelec Live Score
What time is Atletico Mineiro vs Emelec match for Copa Libertadores?
Watch out for this Atlético Mineiro player:
Watch out for this Emelec player:
Last Emelec lineup
Atlético Mineiro's last line-up:
Background:
About the Stadium:
Looking for a surprise in Brazil
To make their home advantage count on the scoreboard
For Eternal Glory
Kick-off time
Welcome to VAVEL.com's LIVE coverage of the 2022 Copa Libertadores: Atletico Mineiro vs Emelec!