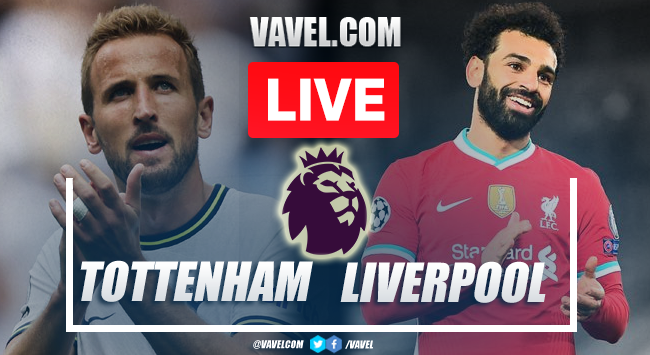 Thank you!
Goals and highlights
And the match ends!!
Change for Liverpool
Min 88: Close for Tottenham!!
Change for Tottenham
Change for Liverpool
Min 82: Close from Nunez!!
Min 78: Close from Lenglet!!
Changes for Liverpool
Min 70: Gooooal for Tottenham!
Changes for Tottenham
Min 53: what a good cross/shot from Dier!!
Min 51: Crossbar!!
And the second half begins
And the first half ends!
Min 40: ¡Gooooal for Liverpool!
Min 15: Post!!
Min 10: Goooooal for Liverpool!
Min 2: Good save from Lloris!!
And the match begins!
Tottenham has only won once!
Konate is in the starting XI
Dejan Kulusevski is in the bench!
Starting XI from Liverpool
Starting XI from Tottenham
Tweet from Liverpool
Tweet from Tottenham
Liverpool have many players out!
Tottenham have three players out
Tune in here Tottenham vs Liverpool
Player to watch from Liverpool: Roberto Firming
Player to watch from Tottenham: Harry Kane
Tomorrow's times for the match!
Last XI from Liverpool
Last XI from Tottenham
When and where to watch Liverpool vs Tottenham
Liverpool come from a shocking loss!
Tottenham come from a big victory!
Promissing duel!
Welcome to all VAVEL readers!