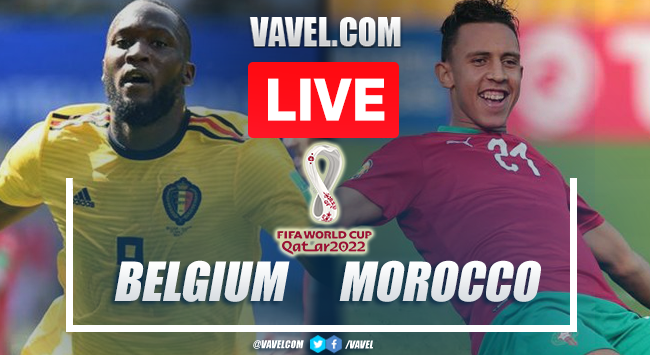 Highlights
Thanks
END GAME
93'
90'
87'
82'
75'
74'
72'
68'
66'
64'
60'
56'
51'
46'
HALF TIME
48'
46'
45'
44'
39'
32'
29'
28'
20'
19'
17'
16'
11'
10'
0'
0'
Right now
Minutes away
Morocco substitutes
Belgium substitutes
XI Morocco
Continues as a starter
XI Belgium
How is Group F of Qatar 2022 shaping up?
Thus they arrived
To add
Improve your performance
Start
Tune in here Belgium vs Morocco Live Score in World Cup Qatar 2022
What time is Belgium vs Morocco match for World Cup Qatar 2022?
Last games Belgium vs Morocco
Key Player Morocco
Key player Belgium
Last lineup Morocco
Last lineup Belgium
Morocco's World Cup Matches
Belgium World Cup Matches
Too much respect for the opponent
Roberto Martinez justified Belgium's victory
What do Belgium and Morocco need to do to qualify?
The Kick-off
Welcome to VAVEL.com's LIVE coverage of the World Cup Qatar 2022: Belgium vs Morocco!