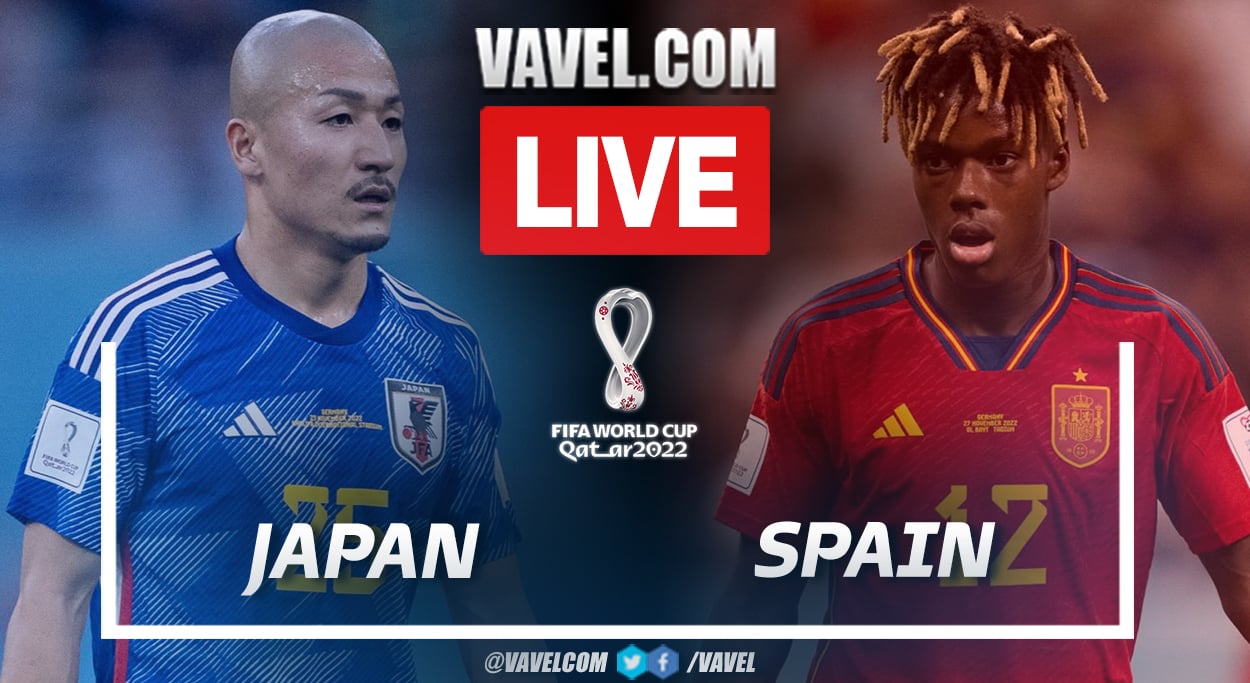 Best moments of the game
End of transmission
Statistics of the match
Match ends
Minute 90'
Minute 87'
Minute 83'
Minute 79'
Minute 75'
Minute 71'
Minute 67'
Minute 63'
Minute 59'
Minute 55'
Minute 51' | GOAL
Minute 48' | GOAL
Second half starts
First half statistics
The first half ends
Minute 45'
Minute 43'
Minute 40'
Minute 36'
Minute 32'
Minute 28'
Minute 24'
Minute 20'
Minute 16'
Minute 12' | GOAL
Minute 8'
Minute 4'
Start the match!
Clothing
Protocol acts
Field trip
precompetitive moves
Arrival of the Spanish team at the stadium
Spain team dressing room
Substitutes - Spain
Initialists in Spain
Substitutes - Japan
starters in Japan
Get ready!
Tune in here Japan vs Spain Live Score
How to watch Japan vs Spain match live on TV and online?
What time is Japan vs Spain?
Group E positions
Referee team
Probable lineup - Spain National Team
Probable Lineup - Japan National Team
Declarations - Japan National Team
Declarations - Spain National Team
Called up - Spain National Team
Called up - Japan National Team
Key player in Spain
Key player in Japan
History Spain vs Japan
Actuality - Spain
Actuality - Japan
The match will be played at the Khalifa International Stadium
Start of transmission