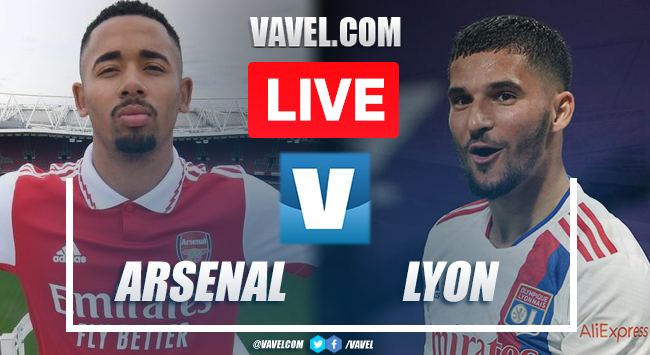 SUMMARY
THANK YOU FOR FOLLOWING LIVE ON VAVEL
IT'S OVER
86
76
67
62
58
First half ends
39
33
31
24
19
13
10
5
THE MATCH BEGINS
IN A FEW MOMENTS WE START
LYON LINE-UP LIST
ARSENAL'S STARTING LINE-UP
NO TEMPORARY SUBSTITUTE TO BE BROUGHT IN
MEMPHIS RETURNS?
GUNNERS GO FOR SANÉ
LYON'S LAST MATCH
ARSENAL'S LAST MATCH
THE WAIT IS OVER
Tune in here Arsenal vs Lyon Score
What time is Arsenal vs Lyon match for Friendly Match?
Watch out for this Lyon player:
Lyon's final lineup:
Watch out for this Arsenal player:
Last Arsenal lineup:
Background:
About the Stadium
To iron out mistakes
Aiming to win the Premier League in 2023
Preparing engines
Kick-off time
Welcome to VAVEL.com's LIVE coverage of the 2022 Friendly Match: Arsenal vs Lyon!