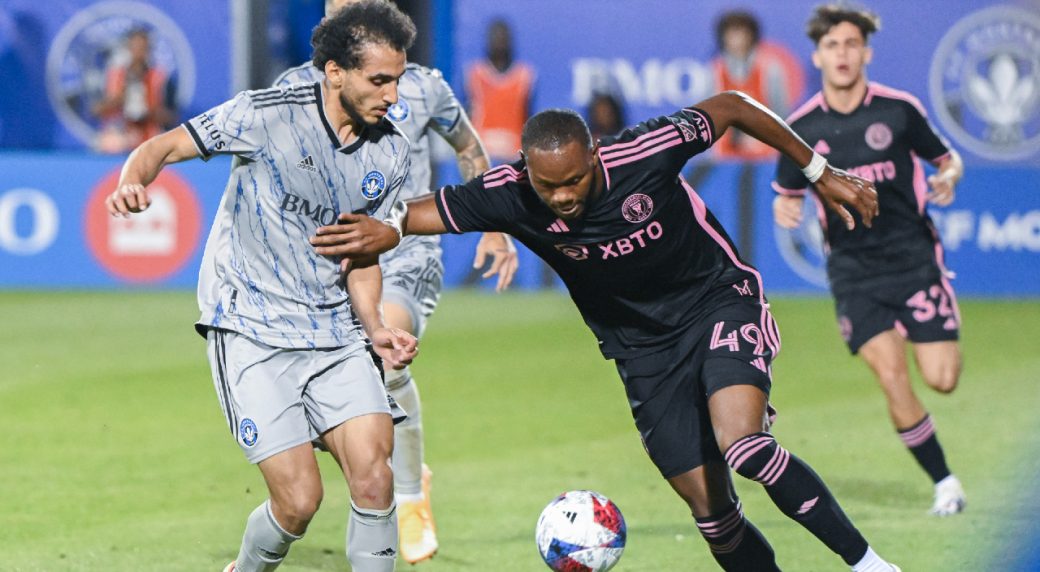 On Saturday night at Saputo Stadium in front of a raucous home crowd of 19,619 fans in attendance, CF Montreal beat Inter Miami 1-0 on a night where we saw the return of former CF Montreal player Kamal Miller.
Chinonso Offor managed to deflect an Ariel Lassiter cross in the 53rd minute and Jonathan Sirois was a wall in the net dining the visitors and keeping another clean sheet.
Featuring a Latin Night theme there was warm weather and Spanish music before an exciting football game got on the way and was a complete 180 from CF Montreal game on Wednesday in the Canadian Championship against Forge FC.
Normally CF Montreal has been a custom to slow starts whether at home or on the road but tonight again was completely different with a good start and dominating in possession and chances in the first 15 minutes.
They continued to control the pace of the game but in the 30th minute the visitors pushed back and Dixon Arroyo got the first shot on target and Jonathan Sirois made his first save of the game.
Two minutes later it was Leonardo Campana for Inter Miami with another great chance at goal but was denied by Sirois. 10 minutes later it was Corentin Jean's chance Sirois stopped him as well.
CF Montreal's first shot on target came in the 48th minute when Ariel Lassiter managed to get a shot off and Drake Callendar made his first save of the night.
Three minutes later Jean got a solid feed from Campana and managed to get a shot from inside the box but Sirois made a stunning save to keep the game scoreless.
Two minutes later CF Montreal broke the deadlock as Ariel Lassiter made a solid cross and Chinonso Offor made a dive and the ball went off his foot and into the net for the 1-0 lead.
From there the visitors pushed as CF Montreal sat back in a low block and let Inter Miami come at them but a solid performance from Sirois secured them the win.
CF Montreal will head back on the road next week as they head to Washington to face DC United on Wednesday before facing the Philadephia Union next Saturday at Subaru Park.