After the first 90 minutes in the quarterfinals of the Liga MX playoffs, two blowouts were followed by two 1-0 wins by the home teams.
Toluca deliver possible knockout blow
(4) Toluca 4 (5) Santos 1

The only higher seed to get a result away from home, Toluca took advantage of subpar and at times laughable mistakes by the home side Santos, who did not look ready to play. An ill-timed jump by Santos goalkeeper Jonathan Orozco lead to the easy header for Toluca to open the scoring.
Santos would tie is up early in the second half thanks to Jonathan Rodriguez's solo effort but the tie would only last two minutes as Enrique Trevino would put the away team in the lead again. Any effort on goal Santos could muster had little chance as Mexican international Alfredo Talavera was on his game tonight between the post for Toluca. As Santos were forced to try and get something from this game, Toluca would score two more in the final 15 minutes by Fernando Uribe and Carlos Esquivel to give Toluca a 4-1 win away from home.
Santos to have a chance must now win by a scoreline of 4-0 in the second leg to hope to progress. A Toluca goal will force Santos into scoring five goals.
Tigres Dominate Clasico Regiomontano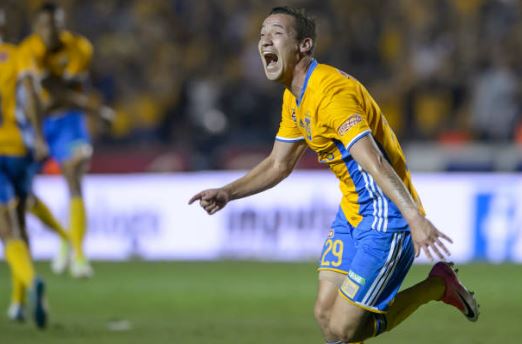 (2) Monterrey 1 (7) Tigres

What's better than having the best team in the league? Having the best team in the league that's clicking on all cylinders at the right time. The matchup between Monterrey and Tigres not only offered us a tasty derby rivalry, it also pinned the two favorites to lift the title.
It was Tigres who came out in the first leg and delivered a championship type of performance thanks to braces by Andre-Pierre Gignac and Jesus Duenas. Monterrey was able to pull a goal back in stoppage time but Duenas second goal would come a minute after with a sensational volley. Javier Aquino ran wild through the midfield for Tigres and Gignac is again finding his best form when it matters most. Tigres now have 19 goals scored in their last 6 games, while only allowing three.

Monterrey will now need to score three unanswered at home. With the fire power Monterrey have, it's completely possible, but they will leave themselves completely vulnerable to the high-powered Tigres attack who could counter them into submission if Monterrey throws too many men forward.
Morelia Defend Home Field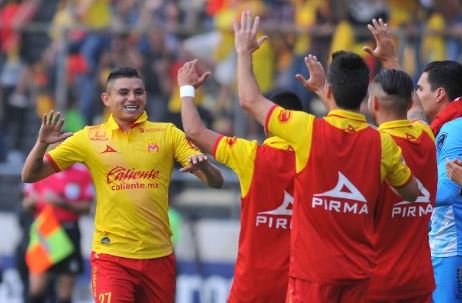 (1) Tijuana 0 (8) Morelia 1

Morelia got off to a dream start as they were able to get a goal in the first 10 minutes thanks to Miguel Sansores back post effort which found the back of the net. Morelia was dealt a blow when leading scorer Raul Ruidiaz would come off the field with an injury.
Tijuana for their part will be happy to return home only down a goal after the team lacked any real attack or threat. Xolos will look to take advantage of their home crowd in hopes of avoiding last season's upset in which they bowed out in the quarterfinals after being the number one seed as well.
Atlas Strike First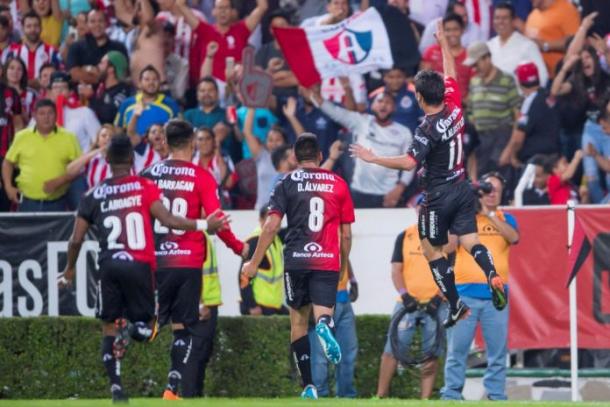 (3) Chivas 0 (6) Atlas 1

El Clasico Tapatio would finish off the first round of first legs and the home side Atlas left with a 1-0 win after Michael Perez was rightfully called for a penalty in the Atlas box after kicking Daniel Alvarez in the back of the foot. Matias Alustiza would slot home the PK from the spot to give Atlas the lead, which sent the 50,000 people inside El Estadio Jalisco into a frenzy.
As Chivas looked the better team in the second half, their only real effort on goal was rightfully called offsides after Alan Pulido found himself behind the Atlas backline. After that, Chivas lacked any ability to create clear cut chances and now have gone six games without scoring a goal from open play.
The away game promises to be a high-intensity affair as Chivas will be forced to go searching for a goal, while Atlas know that with a goal of their own, Chivas will be forced to answer with three.