Mexico has announced the preliminary roster for next month's 2017 CONCACAF Gold Cup, which is to be played here in the United States.
El Tri with a domestic flair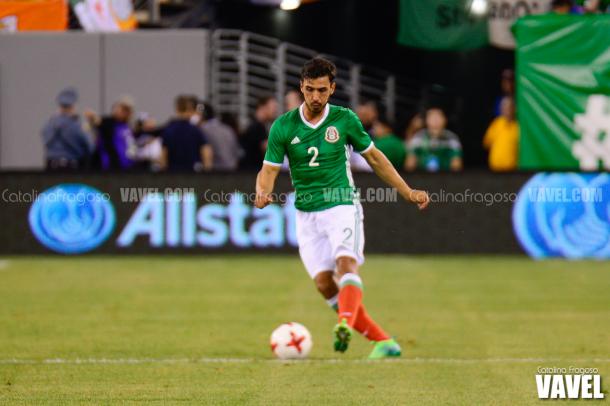 With no European players on the roster, the team is made up of almost all domestic Liga MX players, with the only exception being Houston Dynamo forward Erick Torres. The three players that were already cut from Mexico's Confederations Cup roster, Erick Gutierrez, Elias Hernandez, and Raul Lopez all have made this roster. Twelve players on the roster are also currently included in Mexico's 29-man Confederations Cup roster before that roster gets trimmed down to 23 players. Those players include captain Rafael Marquez and starlets Jurgen Damm and Hirving Lozano. Head coach Juan Carlos Osorio looks to keep his options as open as possible with the chance of a Damm or Lozano possibly playing in both tournaments.
This team now has two and a half weeks to prepare for their chance to shine in the Mexican jersey before the roster gets trimmed down to the required 23 players on June 23.
Other notes about the roster are Liga MX champions Chivas have ten players on the roster including Alejandro Mayorga who has yet to debut on the senior team. Also, 19-year-old Club America teenager Edson Alvarez also received a call up just a week after playing with Mexico's U-20 team at the U-20 World Cup.
Full roster:
Goalkeepers:
Moises Munoz (Chiapas)
Jesús Corona (Cruz Azul)
Miguel Fraga (Atlas)
Jonathan Orozco (Santos Laguna)
Rodolfo Cota (Chivas)
Defenders:
Raúl López (Pachuca)
Luis Rodríguez (Tigres)
Rodrigo Salinas (Toluca)
Jorge Torres Nilo (Tigres)
Alejandro Mayorga (Chivas)
Jesús Molina (Monterrey)
Oswaldo Alanís (Chivas)
Carlos Vargas (Tijuana)
Hedgardo Marín (Chivas)
Hugo Ayala (Tigres)
César Montes (Monterrey)
Luis Reyes (Atlas)
Néstor Araujo (Santos Laguna)
Rafa Márquez (Atlas)
Jair Pereira (Chivas)
Midfielders:
Jesús Gallardo (Pumas)
Edson Alvarez (America)
Jorge Hernández (Pachuca)
Jesús Dueñas (Tigres)
Rodolfo Pizarro (Chivas)
Javier Salas (Atlas
Jesús Isijara (Necaxa)
Javier Lopez (Chivas)
Walter Sandoval (Santos Laguna)
Forwards:
Orbelin Pineda (Chivas)
Erick Gutiérrez (Pachuca)
Elias Hernandez (Leon)
Jurgen Damm (Tigres)
Martín Barragán (Atlas)
Oribe Peralta (América)
Erick Torres (Houston Dynamo)
Alan Pulido (Chivas)
Hirving Lozano (Pachuca)
Angel Sepulveda (Queretaro)
Angel Zaldivar (Chivas)