Mexico 1 - 1 USA
Full-time: The US pick up a huge result in the Azteca, only their third positive result in the history of this rivalry. It may not be three points and the tempo definitely dropped in the second half but Mexico could not find that final pass to get the game-winner and the US leave Mexico with a precious point.
90+3' Lozano and Chicharito combine well again and Cameron makes a big stop to stop the cross from reaching it's targets.
90+2' SUBSTITUTION: Pulisic has left the game now and is replaced by Graham Zusi.
90+1' Pulisic presusres Reyes into playing the ball out for a throw-in.
89' CHANCE! Altidore nods the ball on and finds Pulisic who skips past a challenge but shoots wide of the goal.
88' Chicharito lays it off for Pineda and decides to go for goal instead of passing. He doesn't get the right accuracy on the ball and it goes over.
87' Mexico win a corner which Vela takes but it goes right across the box without anyone touching it.
85' Vela takes the free-kick and it's a complete waste.
84' Bradley fouls Pineda and gives Mexico another chance to put in a ball into the box.
79' SUBSTITUTION: Jozy Altidore comes on for Wood.
79' CHANCE! Vela flicks the ball on but Aquino is completely off balance and skies his shot in front of goal.
77' SUBSTITUTION: Orbelín Pineda comes in for Dos Santos.
76' Hearts race in the US defense as Chicharito is found completely unmarked in the box but he's called back for offside.
75' Mexico work the ball from left to right and eventually Lozano is found in some space. Cameron makes a great tackle to stop the ball from reaching Chicharito who was waiting for the tap in.
74' CHANCE! Bradley rattles the post this time! He goes for goal from a long way out and watches as his shot goes off the far post and out. Ochoa was nowhere near that effort.
71' CHANCE! Herrera with the chance to give Mexico the lead with an amazing free kick! The midfielder doesn't hesitate to go for goal and his effort goes crashing off the crossbar. Guzan had absolutely no chance to save that if it had been a little lower.
70' Vela beats Bradley for pace who then brings the Mexican down for a free kick.
69' Bradley tries to find Yedlin who's making a late run into the box but the pass across the field is too long.
66' Wood wins a free kick in midfield but the US give possession back to Mexico almost immediately as the pass goes right to Ochoa.
64' SUBSTITUTION: Darlington Nagbe steps in for Arriola.
63' Aquino is fouled by Wood and Mexico take it quickly. Dos Santos wiggles away from his marker and tries to find a runner at the back post but his cross is too far for any of his teammates in the box.
62' Yedlin and Acosta combine before the FC Dallas man tries to find Wood making a run at the near post. The US have another corner.
60' Pulisic somehow gets into space and tries to cut the pass back from the byline but Herrera matched him step-for-step and concedes the corner. Ochoa punches the corner away but the US have a throw-in deep in Mexico's half.
59' Cameron makes another great challenge to stop Chicharito who was looking to try and create an opening for himself in the area.
57' Cameron puts in a foot and stops Lozano from being able to make some space for a shot on goal in the area.
56' YELLOW CARD: Acosta's free kick is poor and Mexico try to break quickly again. Arriola makes a tactical foul to slow down the Mexican charge and gets the second booking of the night.
55' Moreno fouls Yedlin who was trying to push forward and gives the US a breather from Mexico's constant pressure.
54' Dos Santos is the furthest forward for Mexico and he does well to bring the ball down but his second touch is a little off and the ball goes out for a goal kick.
54' SUBSTITUTION: Javier Aquino comes in for Fabian.
53' Herrera tries to pick out Lozano at the back post but his diagonal is just too long. Lozano was offside as well.
51' Dos Santos tries to play in Chicharito but Cameron gets his head to the ball and it balloons up into the air, making it easy for Guzan to catch.
49' Mexico almost get through on goal but Yedlin sticks out a foot and intercepts the pass before it got to Lozano.
48' Mexico earn another corner that Dos Santos swings in and Salcedo gets a foot to it but sends it well wide.
46' And we're back with Mexico starting things off for us in the second half.
Mexico 1 - 1 USA
Half-time: That first 45 minutes flew by as both teams played with a great tempo in this game. Plenty of challenges flying in but it seems as though Aguilar is content to let the players play.
44' YELLOW CARD: Yedlin fouls Lozano and picks up the first card of the game due to dissent.
43' Chicharito gets in but Cameron is there to challenge the Mexican and he falls to the ground trying to get the penalty but nothing doing.
41' Gallardo steams past Yedlin and tries to pick out a teammate but Bradley had dropped back well and clears the cross out.
41' Gallardo plays a fantastic cross in which takes a slight deflection before falling into Guzan's grateful hands. Chicahrito was on hand to score a tap in if it hadn't been for that deflection.
40' Pulisic rides a few challenges before playing the ball ahead of a rampaging Yedlin. The full back has no support and his effort goes well wide.
38' Gonzalez meets Arriola's cross but it comes off his head with a slight touch and goes out for a goal kick. Marco Fabian has returned to the field while DaMArcus Beasley is still getting treatment on the sidelines.
36' Beasley gets forward and wins the corner but now he is down injured as well and it doesn't look good.
35' Fabian's night is over unfortunately and Mexico will have to use their second substitution in a number of minutes.
33' After a Mexico corner, Wood tries to break again quickly but is stopped by Fabian. The midfielder is down now and receiving some treatment.
31' SUBSTITUTION: Alanís night is done and Jesús Gallardo comes in for the defender.
30' Pulisic wins the ball from Dos Santos but Herrera is there to win the ball back and pulls off a slick move to get away from Pulisic's pressure. Very well done by the midfielder.
28' Oswaldo Alanís steps up and sends the free-kick way over the goal.
26' Cameron fouls Marco Fabian and puts Mexico in a good position for a set piece. The free-kick comes to nothing but Mexico regain possession and Cameron fouls Chicharito now much closer to goal.
25' The stadium is loud once again as the home crowd re-discover their voices.
Mexico 1 - 1 USA
From the corner, Mexico counter quickly and Chicharito holds the ball before playing it out wide to Vela. The striker cuts inside on his favoured left-foot and fires low past Guzan to level things up.
23' GOAL! Mexico have tied things up!
23' The corner comes in and isn't cleared away well. Gonzalez takes a swing at it and doesn't make clean contact.
22' Dandre Yedlin battles away on the right flank and wins a corner for his team. Can the US make this one count?
21' Bradley is there to nod the ball away at the near post again. The ball eventually comes back to Guzan and the US look to reset.
20' CHANCE! Carlos Vela plays Chicharito who stays onside and tries to chip Brad Guzan but his effort is cleared off the line by Gonzalez for a corner. Chicharito is still down after clashing with Guzan during that period of play.
19' Acosta sends the free-kick in towards Omar Gonzalez who is called back for offside.
18' Pulisic and Wood try to combine but the Borrusia Dortmund midfielder's pass sends Wood wide. The striker keeps the ball in play and sends it back to Beasley who is fouled by Dos Santos.
17' Diego Reyes tries to squeeze the ball into Chicharito but he's called offside and the US get the ball back.
16' Mexico have recovered well from going down so early but the US look dangerous every time they win the ball in transition.
14' CHANCE! Mexico wins a free-kick and they take it quickly. Dos Santos takes a few touches before firing from a long way out and it goes just wide.
13' Cameron has to be very aware to head a ball out that was headed towards Chicharito from Dos Santos.
12' Another US corner coming up as Acosta presses Jonathan Dos Santos into a mistake. The attack is halted as Geoff Cameron is called for a foul as the ball is sent in.
11' Hirvin Lozano wins a corner for Mexico now which is cleared near post by Bradley. Christian Pulisic tries to spring free Wood on the counter but his pass is too long and it goes out for a throw-in to Mexico.
10' The delivery is poor as it swings out before swinging back in again and Mexico regain possession.
9' Wood wins the US their first corner of the game which Bradley goes across to take. It's taken short but the US get the ball back again and Paul Arriola wins another corner as his cross is cut out.
8' The US try to break forward quickly again as Wood plays a one-time ball to Kellyn Acosta. It goes out for a US throw-in.
Mexico 0 - 1 USA
Oh my goodness! Michael Bradley steals the ball from Javier 'Chicharito' Hernández in midfield and charges forward before deciding to lob Guileermo Ochoa who is off his line. The ball gets enough height and plops into the back of the net to give the US a big goal early in the half.
6' GOAL! Bradley gives the USMNT the lead!
5' Moreno gets forward and sends in a cross that the US deal with well.
4' Bobby Wood is down as Salcedo and the US striker both go up for the goal. The right back goes with his elbow again and again the referee seemingly ignores it.
3' DaMarcus Beasley is down now after getting what looked like an elbow to the face from Carlos Salcedo.
1' Mexico win a free-kick as Bobby Wood gets a talking to from our referee tonight Joel Aguilar for his late challenge on Héctor Moreno.
1' The USMNT start us off in what should be an enthralling encounter!
The anthems have been sung and the Azteca is in full voice before kick-off as chants of 'Mexico' ring out.
Juan Carlos Osorio rests Giovanni Dos Santos but there are still a lot of familiar names in that Mexican starting eleven which suggests that Osorio wants the win tonight.
Both teams have made changes but the USMNT have made the more surprising changes to their line up. Clint Dempsey and Jozy Altidore are on the bench while Tim Ream and DaMarcus Beasley have been brought in by Bruce Arena to make a 5-man defense.
USMNT Starting XI (5-4-1): Guzan; Yedlin, Gonzalez, Ream, Cameron, Beasley; Arriola, Bradley, Acosta, Pulisic; Wood.
Mexico Starting XI (4-4-2): Ochoa, Salcedo, Alanís, D. Reyes, Moreno; J. Dos Santos, Herrera, Fabián, Lozano; Vela, Hernández.
Evening everyone and welcome to one of North America's oldest rivalries. Mexico host the USMNT and we have the starting line ups ready for you.
Mexico 2, USMNT 1
Prediction: It's Mexico at the Azteca. The USMNT has only managed one win their entire history in that stadium. Mexico are close to unbeatable in that stadium and considering what's at stake in terms of qualification and in terms of pride, Mexico will do everything they can to win this game in front of their home fans. The USMNT are very susceptible at the back and this will be what Mexico will exploit with their pace and trickery up front.
Projected Lineup for USMNT: Howard; Yedlin, Cameron, Brooks, Villafaña; Bradley; Nagbe, Pulisic, Johnon; Altidore, Dempsey.
Projected Lineup for Mexico: Ochoa; Alanís, D. Reyes, L. Reyes, Dueñas; G. Dos Santos, J. Dos Santos, Herrera, Lozano; Hernández, Vela.
The match will be played at the Estadio Azteca in Mexico City, Mexico on June 11th, 2017. The game will kick off at 8:30 PM EST and will be broadcast on FS1, UniMás, and UDN.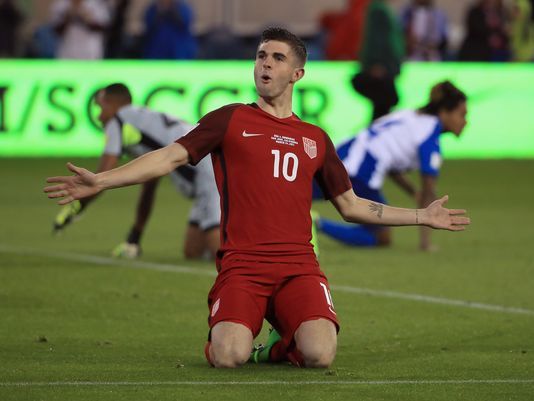 On the other hand, in Christian Pulisic, Clint Dempsey and Jozy Altidore, the USMNT have players capable of putting the ball into the back of the net. They will be needed to be at their very best against Mexico and will have to finish the chances that come their way which could be very few over the course of the 90 minutes. Dempsey was substituted early in the second half so he should be
The USMNT come into this game after a 2-0 win over Trinidad & Tobago but it was not as easy as they expected it to be. The defense was exposed far too many times for head coach Bruce Arena's liking. T&T exploited the flanks of the USMNT and could have scored more than once had it not been for poor finishing and the crossbar. That cannot be allowed to happen against Mexico even though Tim Howard is capable of spectacular saves. Mexico are better finishers than T&T and will punish the USMNT if given similar opportunities.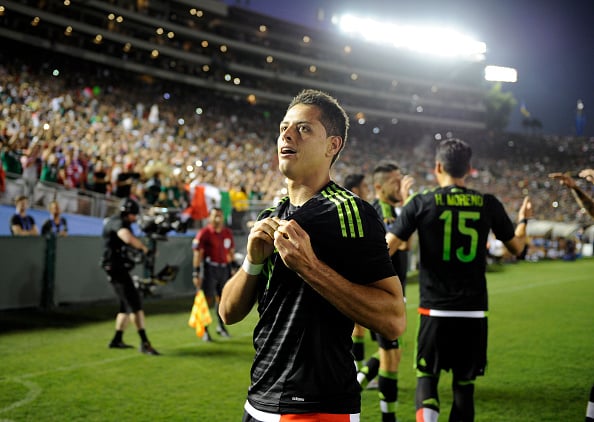 At the back, Mexico can be found out but goalkeeper Guillermo Ochoa is capable of saving games all on his own as evidenced in his performances at the last World Cup. If he is on top form, the USMNT will have a hard time coming away with even a draw from this game. Carlos Salcedo will miss the game so Jesús Dueñas will probably be filling in at left back. The USMNT may look to exploit that area of the field and as well as set pieces since they should have the height advantage over Mexico.
Mexico's strength is definitely up top. In Javier Hernández, Carlos Vela and Giovanni Dos Santos, Mexico have some of the more explosive attackers in soccer. No matter their form leading up to matches against the US, these three players usually always show up to put the US backline to the sword. Dos Santos and Vela are capable of moments of magic from anywhere around the 18-yard area while 'Chicharito' is one of the best poachers that the game has seen. They will be assisted by those behind them who tend to play quickly and with a passion that helps Mexico against some of the very best in the world.
One of the more heated rivalries in world soccer takes centre stage once again in Mexico City this Sunday night. The last time the two teams met, Mexico pulled off a late 2-1 win over the USMNT in Columbus, not only ending the 'dos a cero' legend of that stadium but also becoming a catalyst to the end of Jurgen Klinsmann's reign. Mexico will be wanting to not only get all three points once again but but in a emphatic performance in front of what should be a vociferous home crowd.
Hello and welcome to another grudge match in World Cup qualifying between Mexico and the United States of America. Mexico top the 'Hex' while the US will be looking to push themselves further up the table. My name is Kudzi Musarurwa and I will be your host for this match on VAVEL USA.