In a pivotal 2018 FIFA World Cup qualifying match, the US Men's National Team came away with just their third ever point at the Estadio Azteca.
Michael Bradley had his sublime goal cancelled out by Carlos Vela, as the score ended 1-1.
While Mexico still remain atop of the Hexagonal standings, the USMNT inch closer to an automatic qualifying bid for next summer's World Cup. They are now level on points with Costa Rica for the time being.
Costa Rica still has to play their second match of this round, where they will take on Trinidad & Tobago on Tuesday night.
First half goals cancel each other out
It took just seven minutes for the visiting side to score a simply sensation goal. Bradley pressed high and won possession in the middle of the park. He took a couple of touches before chipping Guillermo Ochoa from some distance.
Only 16 minutes had eclipsed off the clock when Mexico found the equalizing goal, but the score line could have been so different.
The USMNT had a golden opportunity to take a 2-0 advantage, right before Mexico's goal, as Bobby Wood whiffed on a chance right in front of goal. Ochoa then came quickly off his line before throwing an absolute peach of a ball to start the counter.
The Malaga goalkeeper found Javier Hernandez on the left to get the move going. Chicharito saw Vela open on the right side of the pitch and played the perfect pass. Against Vela, DaMarcus Beasley had no chance. Vela kept cutting back towards the middle before finishing into the bottom corner of the goal.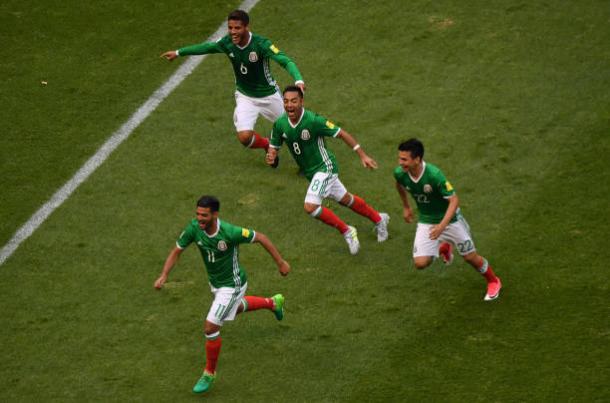 With seven minutes remaining in the half, Omar Gonzalez missed a header off a corner from Paul Arriola. Then, on the same sequence, DeAndre Yedlin could not latch onto a right-footed shot cleanly.
Chances few and far between in the second half
In the 71st minute, Mexico could have taken the lead off a free kick from Hector Herrera. The attempt, though, blasted off the underside of the cross bar keeping things level at one.
Then, three minutes later, Bradley nearly scored a second sensational goal for the USMNT. He took a bouncing pass from Kellyn Acosta before rocketing his shot off the right post.
What's next
The summer is only beginning for Mexico. Following their draw, the squad headed immediately to the airport. They kick off their FIFA Confederations Cup campaign, in Russia, against Cristiano Ronaldo and Portugal on Sunday.
Meanwhile, for the USA, they get a bit of a break before the CONCACAF Gold Cup. Their next match will not be until July 1st, against rivals Ghana.