Mexican head coach Juan Carlos Osorio is known for his heavy rotation policy in terms of formation and starting XI, so much so that in his 24 games in charge he has yet to repeat a starting XI in back to back games. Even with Osorio's policy, with everyone healthy and when big matches come across he has replied on a base of 7-8 players as the backbone of the team. If Mexico hopes to have success in Russia, those players will need to take their play to another level.
Vela to lead attack, Hernandez must do better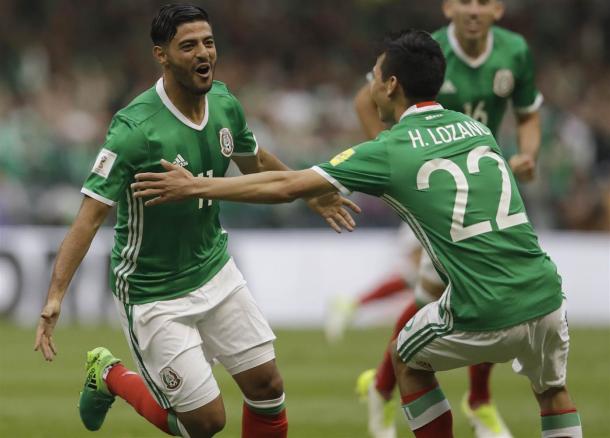 With Jesus Corona to miss the Confederations Cup due to personal reasons, the attacking focus shifts more responsibility to Carlos Vela. Vela, for his part, has been Mexico's best player during the last few weeks and at his best, he's Mexico's most talented all around player and can turn a game on a dime. It was his moment of magic down the right-hand side on Sunday that tied the match against the United States while also ran the defense crazy with his slick and shifty passing. All game long he has been Mexico's most dynamic offensive talent, and if Mexico hopes to make a run in the Confederations Cup, he will need to continue his form.
While Vela was Mexico's best player Sunday, Mexico's main forward Javier Hernandez was horrendous. His terrifying touch in the middle of the pitch, resulting in a giveaway led to the USA's opening goal. After Vela played him through with a delicious pass over the defense, Hernandez should have done better when his attempt on goal sailed off the frame. All game long his touch looked more like a ball bouncing off a tree trunk with no idea of direction, than a touch of someone who's Mexico's all-time goal scorer. Hernandez must improve up top and be more clinical in front of goal for Mexico.
Mexico's midfield coming together at the right time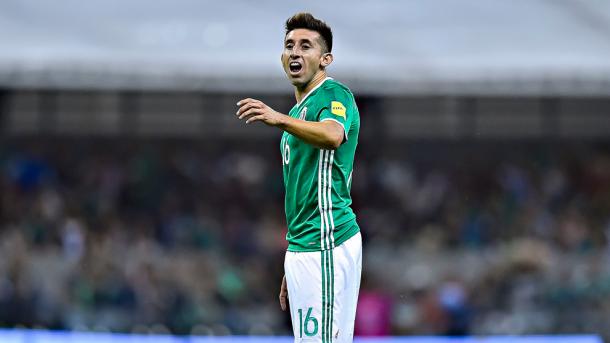 After a horrible season with Porto and Mexico, Hector Herrera has found his form for Mexico in the midfield the last few matches. Alongside him Jonathan Dos Santos has taken the most of his opportunity and has been a ball winning, passing machine for Mexico. Adding the leadership of Andres Guardado who is recovering from injury and Mexico has a trio of midfielders who can do a lot to help Mexico win the midfield as they all possess the ability to interchange and play multiple places in the midfield. They can all track back and cover the backline, while also dominate the midfield if they're able to keep the ball on the ground. More importantly, at their peak, their work rate have never been in question which can be the main thing that can tilt a game in Mexico's favor.
Moreno the leader in the back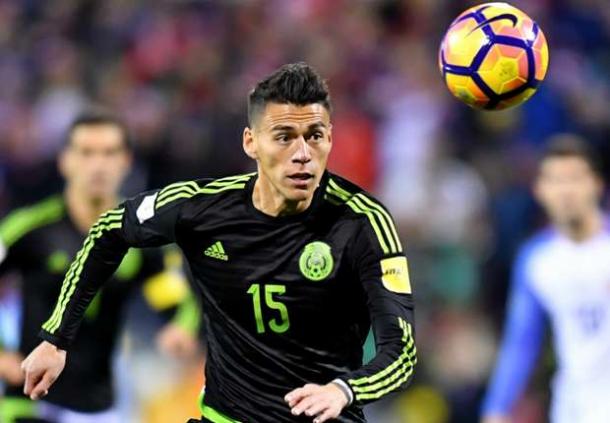 Maybe the player who's played the biggest role for Osorio has been new Roma defender Hector Moreno. Even though Osorio likes to switch between a three, four, and five-man backline which will see a mixture of players like Luis Reyes, Diego Reyes, Nestor Araujo, and Carlos Salcedo, Moreno will be the one key that won't change in Osorio's plan. Having Miguel Layun back will also help Mexico as his versatility will allow him to play either flank while also push up as a midfielder. Lastly, having Mexican captain back Rafa Marquez will be important in terms of on-field leadership, coming off an injury in which he's only played 23 minutes since March, it's difficult to see how much Mexico will get out of Marquez early in the tournament. All this leads to Moreno to be the main player who will need to organize, lead, and take command of the Mexican defense.
It will be almost a year that Mexico was thrashed by Chile 7-0 in which all their big names wilted under the pressure and essentially threw in the towel halfway through the match. Even with Marquez here this time for this tournament (Marquez was off the teamsheet for the Chile game as he left the Mexico camp for the birth of his son), if Mexico is to make a run in the Confederations Cup, the responsibility of success will fall on Mexico's big names and stars.