A splash of cold water was thrown over Mexico after their thrilling 2-2 draw against Portugal. However, they followed that performance with a very underwhelming 2-1 win over New Zealand.
Osorio Over Tinkers
Mexican head coach Juan Carlos Osorio stuck to his guns with the rotation policy and then some when he made 8 changes to the team that drew against Portugal. All of Mexico's top players, Guillermo Ochoa, Hector Moreno, Miguel Layun, Andres Guardado, Hector Herrera, Jonathan Dos Santos, Carlos Vela, and Javier "Chicharito" Hernandez were left on the bench for Mexico.
That led to Mexico starting the match off sloppy and were unable to take foot hold. El Tri, because of the squad rotation, misplacing simple pass after simple pass. Giovani Dos Santos and Marco Fabian struggled to make their presence known and New Zealand were quick to try and snatch a lead off El Tri's mistake following a poor first 45 minutes.
Sloppy first half from El Tri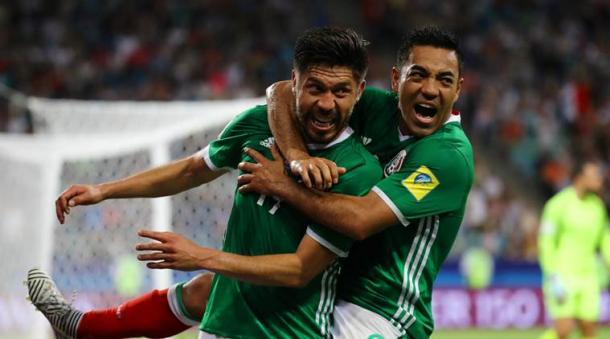 Midway through the first half Carlos Salcedo fell and awkwardly hit the turf which left him laying on the ground in his own box. New Zealand played on and Chris Wood's one-on-one chance with Alfredo Talavera was blocked away. What followed were TV cameras catching Osorio getting in a heated exchange with New Zealand head coach. Including dropping the MF bomb at the New Zealand bench.
A defensive mix-up and a poor clearance from Nestor Araujo lead to Wood with another breakaway. This time the All Whites captain wouldn't miss and gave the Oceania champions an early surprise lead.
With Moreno already subbed on in the first half for the injured Salcedo, Herrera made another sub at halftime, as he brought in Oswaldo Alanis. Herrera added a much-needed calm to the Mexican midfield which was seemed to lift the team. With Javier Aquino being Mexico's brightest spot all night, his play down the left-hand side with the ball finding Raul Jimenez and the Benfica forward would smash home the game drawing goal.
With 18 minutes left to play, it was Aquino again down the left-hand side. His cross met the left foot of Oribe Peralta, whose effort found the near post. The ball bounced off the bar and into the back of the net to give Mexico the lead.
Mayhem ensues at the end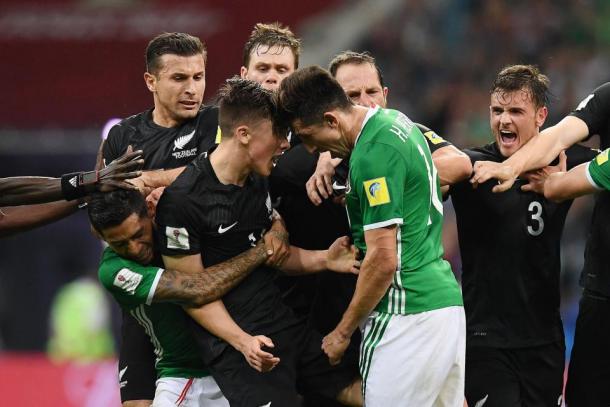 In New Zealand's last-gasp attempt to draw the match, a multiplayer brawl and shoving match broke out after Diego Reye's professional foul. The bodies and arms kept flying in as the refs struggled to contain everyone. After a VAR review of the incident, only three yellow cards were handed out. A few moments later Mexico left with the 2-1 win.
Coming up
Mexico now sits atop of group A with four points and play their last group game Saturday against host Russia with a chance to advance to the semifinals.