Somehow, like they usually do in the CONCACAF Gold Cup, the USMNT found a way to get the victory. This time, USA defeated Martinique, 3-2 in Tampa, Florida to move within striking distance of the knockout rounds.
This scoreline, however, was quite flattering when the night finally wrapped up. Martinique could have scored a goal or two in the opening 45 minutes, but Brad Guzan and the frame of the goal stopped them. In the second half, they did, scoring twice and even level the match at two-all.
Goals galore in the second half
After a pretty dull first half, the action picked up ten-fold in the latter stages of the night. In the 46th minute, Paul Arriola nearly opened the scoring. He had to stretch out to get on the end of the pass, and as a result, it smacked off the crossbar.
Eight minutes later, though, the US did break open the scoring through Omar Gonzalez, who scored just his second international goal. The initial ball in off a corner was cleared, but only towards Arriola. The Xolos man had a good attempt from distance, forcing Kevin Olimpa to make a save. Unfortunately for Olimpa, he left a save and Gonzalez was there to tap the back into the net.
Off of a corner kick in the 52nd minute, Yoann Arquin headed a cross downwards. His attempt was stopped well by Guzan, who at the point had kept his clean sheet in tact. A minute later, Olimpa made a wonderful save falling backwards, while holding onto a Jordan Morris chip.
Jordan Morris got involved on the scoresheet. Ten minutes after the opener, Eric Lichaj played the perfect ball into the near post, where Morris made the precise run. He scooted in front of Olimpa to make it 2-0 to the USA.
However, right after Morris' goal, Martinique did manage to cut the lead in half. Kevin Parsemain took advantage of space outside the box, and he beat Guzan at the near post.
Then the unthinkable occurred: an equalizing goal from Les Matinino. It was Parsemain again, not long after the restart. His attempt took an unfortunate deflection, as it looped up and over Guzan, making its way behind the USMNT shot stopper.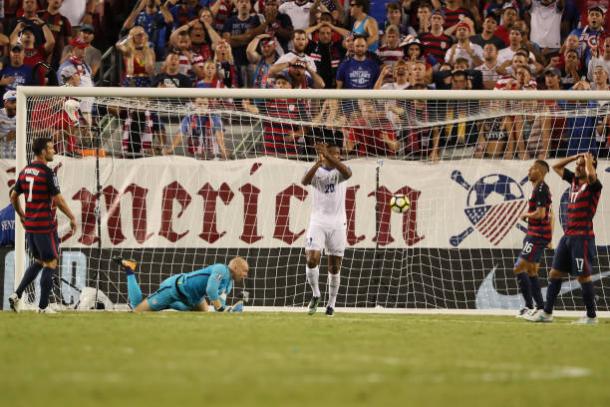 In the end though, the US were too much for Martinique. Morris completed his brace, which he desperately needed, after finishing off a great cross from Gyasi Zardes.
Coming up
The US will round off group play against Nicaragua in three days. Meanwhile, the small Caribbean nation, can still advance out of the group with a best third-place finished. Martinique will play a tough match against Panama on Saturday.