New York City FC will welcome Orlando City SC to Yankee Stadium on Sunday. Orlando beat NYCFC in week one of MLS play and NYCFC will be looking to even up the series for 2017. NYCFC were forced to go back to New York with zero points after a dominant display showing off their improved attack. Cyle Larin grabbed another goal against the New York side and will hope to grab another one on Sunday.
Team News
New York City FC: Last week the blue side of New York had every player on the roster available for selection for the first time in the 2017 MLS season. Unfortunately for them, this did not last very long. NYCFC winger Khiry Shelton picked up a hamstring injury and is expected to be out for four to six weeks.
Costa Rican international Ronald Matarrita has picked up an injury midweek during training. The fullback picked up an ankle injury and like Khiry, is expected to miss four to six weeks.
Orlando City SC: Orlando, unlike NYCFC have multiple players expected to miss the match in New York on Sunday. Jose Aja and Rafael Ramos will continue to miss time for Orlando. Aja has not made an appearance since he was forced off with an injury vs Columbus on April 1, 2017. Ramos is yet to see the field this season.
Some good news for Orlando fans, Kaka has returned to training and manager Jason Kreis said their is a chance the captain could see the field on Sunday.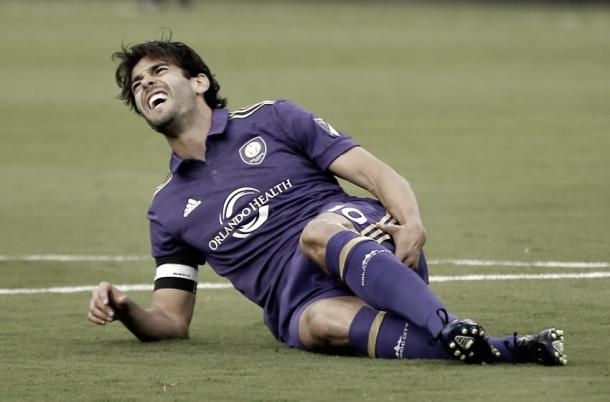 Key Facts
Orlando City and NYCFC are both in the top five according to MLS power rankings. Both teams are unbeaten at home this season but Orlando are yet to win a game on the road and hope to change that on Sunday. Both sides are coming off of wins. NYCFC traveled to Philadelphia and picked up their first road win of the season and Orlando fought off a relentless LA Galaxy side to continue their impressive home unbeaten streak. Orlando have the better of the series between the two 2015 MLS expansion sides with a 3-3-1 against the New York side.
What To Watch For
Expect NYCFC to possess a lot of the ball similar to the way they did in the first meeting between the two sides in 2017. NYCFC already have more than double the amount of passes at the Orlando side early in this 2017 season.
Cyle Larin and David Villa both have four goals on the season and will both want to continue scoring. David Villa has also added three assists and will be looking to get the three points in any way possible on Sunday.