Imagine if the first paragraph of this piece was "Paul has a very busy schedule this week, so given that his work and life calendars are very, very busy, he has brought in a 17-year-old, highly promising young writer to take his place, for this recap only."
Well, that's essentially what happened in beautiful Tukwila, Washington - gateway to SeaTac! - Tuesday night, when the Portland Timbers traveled up north to take on their bitterest rivals, yet again, in the US Open Cup. Unlike Portland, the Seattle Sounders didn't have a game this past weekend, but between fixture congestion, injuries, and international callups, both Portland and Seattle had made noises before this match of fielding severely weakened, young, Academy-level lineups for this game.
And they both did exactly that - both teams signed a whole bunch of their USL affiliate players to four-day contracts, gave them grown up uniforms, and said: "go get 'em".
If the kids are united, they will never be divided
For the Timbers, this meant starts for the likes of Augustine Williams, Harold Hanson, and Andre Lewis, with Jeff Attinella and captain Ben Zemanski (let THAT sink in for a second) the only senior team representatives in the house. The most seasoned professional on the field was likely referee Allen Chapman, who was probably there, in no small part, to help both teams avoid what happened the last two times these teams played at Starfire in the USOC.
When you combine two teams featuring a mix of bench guys and young players who don't play together much with an artificial pitch at a municipal facility that is, to be charitable, suboptimal, we were never going to see a technically superior game. And we didn't.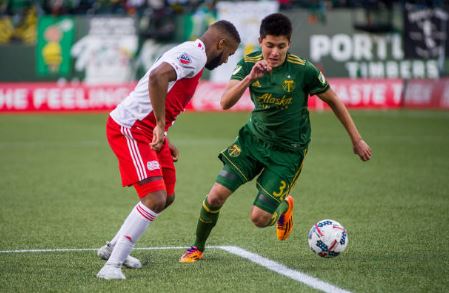 In fact, for the first 30 minutes, we basically didn't see a game - it was streaming, and MLS used a sub-par platform because I guess they assumed that 25 people would be watching. But, this is Cascadia, and we like our soccer, so we apparently overloaded them; one broadcast switch to YouTube during the first half later, and the stream was back on.
The parts of the game I did see were as choppy and messy as the stream was in that first 30 minutes. Between the rock-hard pitch and the players' unfamiliarity with each other, this game was, in a word, rough. From both sides.
The Sounders scored first, the Timbers equalized before the half, and the Sounders converted a penalty in the second half; that, in essence, was that. I'd love to be able to write 2,000 words about The Future Of The Timbers based on what I saw, but that's not really possible - the kids played as well as they could give their constraints, but it's hard to draw any grand conclusions from this match because it was so disjointed.
So, Seattle moves on in the tournament, chasing their fifth USOC trophy, and Portland regroups, send the kids back to the minors, and prepare to take on the Colorado Rapids in the league at the weekend.