For the last few years D.C. United haven't been known for their offensive prowess. Manager Ben Olsen is known for having a stout defense and players who simply get the job done. That, of course, becomes a problem when the offense does not score.
DC have now gone six-hundred minutes without scoring a goal in open play (in MLS matches). They are dead last in the entire MLS in goals scored and will have to face the team that leads the league in goals scored in Atlanta United.
A look at both sides
After coming off of a 4-1 win over the darlings of the US Open Cup, Christos FC, DC returned to their league play and hoped to end their MLS scoring drought against Toronto FC. After falling 2-0, they remained in the last place in the Eastern Conference with a 4-8-3 record. Their last league win came on May 27th against Vancouver, in which the penalty given that lead to their goal was later proved to be a dive from Jose Ortiz.
Atlanta comes into RFK Stadium just as it seems they are getting a grasp on things. They currently sit in seventh place but are one point behind Columbus Crew who hold the last playoff spot. Atlanta also has two games in hand, one of them coming against DC. Atlanta leads the league in the goals scored category with thirty-one. This has been behind Miguel Almiron's explosion onto the MLS scene, scoring eight goals in his debut season. Both Josef Martinez and Hector Villalba have also added six goals.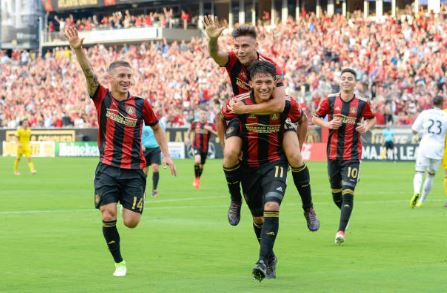 Previous meeting
D.C. and Atlanta have only met once in their history, probably because Atlanta has only been an MLS side for half a season. In that only meeting, which was at Bobby Dodd Stadium, D.C. fought back after conceding early on to win 3-1. Since that match, D.C. has only won one out of their last seven.
Keys to win
You can't win if you don't score, and that's been the story for D.C. They can end their bad run of form and start their climb from the bottom of their conference with a win, but it'll have to come with their offense igniting. Star keeper Bill Hamid will have to continue his heroics and keep the Atlanta attack at bay, but there's no saying that D.C. will be able to keep up with the high-powered Atlanta side.
Atlanta will have to focus on getting the job done. The last match against D.C. they stormed out to a 1-0 lead early on, but quickly gave that lead away and in the end fell 3-1. D.C. has only won two of their eight home matches, which is a good sign for the visiting club. If Almiron and company do what they normally do, they should be able to get past D.C.
Injury report
DC United: Out - Rob Vincent (knee), Nick DeLeon (lower abdominal strain), Sean Franklin (hamstring), Patrick Mullins (knee surgery)
Atlanta United: Out - Jacob Petersen (leg), Suspended - Carlos Carmona
Referees
Nima Saghafi, Cameron Blanchard, Danny Thornberry, Robert Sibiga
Match info
Date: Wednesday, June 21
Kick-off: 7:30 PM EST
Location: Robert F. Kennedy Memorial Stadium (Washington, DC)
Watch: MLS Live, DC: News Channel 8, Atlanta: Fox Sports South