Kat Williamson of the Portland Thorns announced on Monday that she will be retiring after four seasons in the NWSL, which includes three with Portland. She spent her first season with Portland before moving to the Western New York Flash in 2014 after being traded with Courtney Wetzel and the team's first-round pick in the 2015 NWSL Draft. She was then traded back to Portland along McCall Zerbroni in order to acquire Amber Brooks.
Williamson feels blessed to have played for Portland
Williamson, 27, talked about how "fortunate and blessed" she was to play for the Thorns; Playing for this organization for three years, I just feel so fortunate and blessed. Merritt Paulson and Gavin Wilkinson truly care about us as players, not only on the field but off the field as well. I couldn't have asked for a better experience. I think the thing I'll miss the most is just the support that we've gotten from the fans throughout our four years as a team and will continue to get in the future.
Williamson continued; "As sad as it is for me to leave, I'm excited to watch this progress with the team and the organization. I couldn't have asked for a better three years with Thorns FC and I'm going to miss it tremendously."
President and general manager Gavin Wilkinson talks about Williamson
Gavin Wilkinson, Thorns president and general manager, had this to say about Williamson; "I'd like to thank Kat for her massive contributions to this organization. was with us when we won the 2013 NWSL Championship, and the Supporters' Shield this past season. Without her, we believe these titles would not have been possible. We wish her all the best as she pursues the next step in her career."
NWSL career in Portland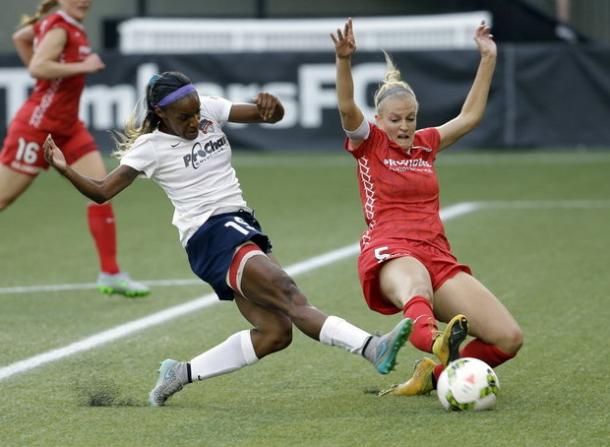 During her time in Portland, Williamson appeared in 47 regular-season games (45 starts) and scored one goal and assisted on three others in her three years. In 2016, she only appeared in five games with three of those being starts. She did score her first ever NWSL goal in 2016. Her 47 appearances for Portland ranks her fifth all-time in games played for the Thorns. She helped lead the Thorns to the inaugural NWSL Championship in 2013 and the clubs first ever NWSL Shield in 2016.
A standout in College
Williamson played her college soccer at the University of Florida. She was a four-year starter and appeared in 81 games (80 starts) for the Gators. She was named the SEC Defensive Player of the Year in 2010 and she was part of a Gators' team that won three SEC titles (2009, 2011-2012).