Today, FC Kansas City announced the signing of the new contract for midfielder Mandy Laddish. After recovering from a recent hip injury, her contract is renewed for her to play until the 2018 NSWL season.
From Norte Dame to Kansas City
Laddish attended school at Notre Dame where she started in 25 games and assisted the team to its third national championship. In 2013 she graduated with a degree in marketing. The following January of 2014 is when the NWSL College Draft took place, which is when she was chosen by FC Kansas City to play for the team. That year she made her first cap with the team in a game against the Boston Breakers in which Kansas City had a solid 2-0 victory.
In 2015, that is when Laddish became more recognizes as she made 16 appearances, in which 13 of those games she was a starting player. As she suffered from a hip injury, she wasn't able to play in one of her season games of 2016.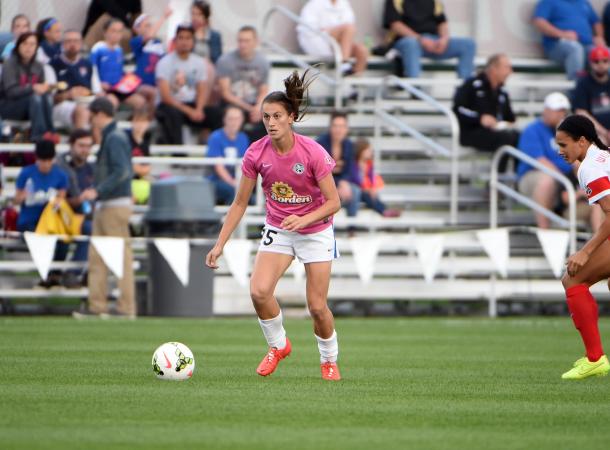 Laddish hungry for more
Last June when she was asked about living her dream as a professional soccer player she stated:
"I find a sense of pride that I was able to make it this far. In one aspect I am very proud and humbled to be a professional athlete, but in another, I'm not satisfied with where I'm at right now, I'm hungry for more."
With Laddish signing a new contract, the 24-year-old has much to offer to the team. As she recently had surgery for her hip injury, she is planning to be able to be back on the pitch to play by this coming spring for training.
Laddish's thoughts
When asked about the contract Laddish responded:
"It's very exciting to be recognized and I'm very thankful to be able to play in front of friends and family in my hometown. I'm thankful to continue playing for (Head Coach) Vlatko Andonovski and learning and playing alongside some of the best players in the league."