Wednesday, October 19th, the USWNT will meet in Sandy, Utah at Rio Trinity stadium as they compete in their third friendly against Switzerland. Both teams will also play on October 23rd, in Minneapolis, Minnesota, marking their fourth match against each other.
USA and Switzerland previous matches
The first game between these two countries took place in August of 2014 in which the USA won 4-1, with two of their goals being penalty kicks by star players Carli Lloyd and Abby Wambach. The most recent match between these two teams took place in the 2015 Algarve Cup where the US won 3-0.
Switzerland is currently ranked as the 15th team in the world, underneath the USA's standings of being first. Switzerland participated in its first Women's World Cup in the summer of 2015 in Canada. After scoring eleven goals throughout their group play, they lost 1-0 to Japan, who lost to the US in the Championship game.
Player's to watch for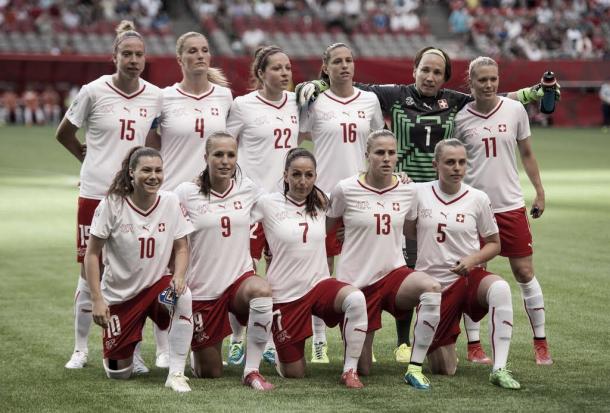 Switzerland midfielder Lara Dickenmann currently holds the most goals of all the players on the roster with a total of 44 goals. She also has 114 caps with the Swiss team and has experience playing in America during her college years. She attended Ohio State and even holds a record of 35 assists and 294 shots within her time there.
Head coach Jill Ellis recently announced her roster for this game, which includes 11 players who will be representing the USWNT for the first time. A majority of these players are recruited from NWSL club teams and even players Jane Campbell, Ashley Hatch, and Andi Sullivan who are the three players from college teams.
Current positions for both teams
In regards to the USWNT future games, Ellis states:
"Coming out of those games [in September], we are looking at everything from this point forward in relation to 2019. Every training session, every match we play, it's looking at players, evaluating players and gaining experience."
As 53 other teams were qualified for the 2017 UEFA Women's European Championship tournament, Switzerland is in the lead of their group. With a total of 24 points, they are in the lead of Group 6 out of five other teams, including Italy, Czech Republic, Northern Ireland, and Georgia.
As the U.S. has previously won the matches against the Swedish team, the upcoming friendly will give both countries a preparation to see where they stand. The U.S. will see what players work well collaborating with former U.S. veterans and also as to which new players need to adjust in certain areas. Switzerland will also be able to put in more time on the field to better prepare them for the rest of the UFEA tournament that they are succeeding in. The match will take place on Wednesday, October 19th at 6pm PST on ESPN2.