The North Carolina Courage celebrated their first ever home opener in fine style, knocking off their west coast rival the Portland Thorns 1-0 in an exciting and physical game.
Missed Chances in 1st Half
Although the Courage started their high pressure early, Portland came close to breaking through twice in the early going. Nadia Nadim just missed connecting with Allie Long on a free kick in the third minute, and in the tenth Long got free in the box and shot just wide of the far post.
Portland head coach Mark Parsons talked about the impact of that opening period: "It's a tough game and a very tough opposition for your first game on the road and North Carolina have a lot of fantastic dangerous weapons and I thought we stayed with them tonight," Parsons said. "I thought we hung in there the first 10-15, we had some very good chances and we probably needed to steal one of those."
The Courage's pressure took over the game and began to suffocate Portland's counters. North Carolina came close to taking the lead several times. In the 18th minute Jessica McDonald made a diving header to reach Makenzy Doniak's cross, but her attempt was off-target. Later in the half the Courage worked a nice sequence out of the back that ended in Lynn Williams sliding a ball across the box for Doniak. Her shot was off-target but a ricochet off McDonald fell obligingly for Debinha, who turned on a dime and ripped a bicycle kick that went just wide of the near post.
North Carolina dominated the possession but couldn't find the finishing touch. In the back, Sabrina D'Angelo dealt with the few shots Portland got on target and kept the score tied 0-0 going into halftime.
Courage stay focused in 2nd Half
The momentum of the game seemed destined to shift when Portland defender Emily Sonnett was called for a handball in the box in the 74th minute. Samantha Mewis stepped up to take the kick giving her team its first home goal and win, only to see her shot saved by Adrianna Franch.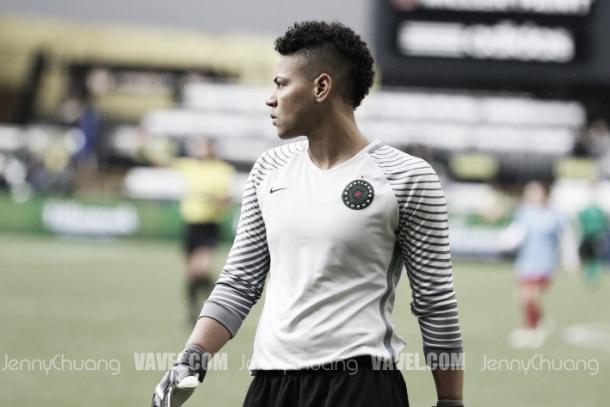 Paul Riley, the head coach of the North Carolina Courage, was pleased with his team's response to the turn of events. "You're always wondering where the second goal is going to come from, and obviously when we missed the penalty we started to think maybe the momentum's going to swing away but I give the players a lot of credit," Riley said. "Sam got herself back together and had a great last 15 minutes and that's where the goal came from, it was a beautiful move for the goal."
North Carolina engineered the game-winner just six minutes later. McDonald had the her assist, her first point for the team this season: "I received the ball going endline," McDonald said. "I faked once, I didn't see anybody get in the box yet, I faked twice, and then I saw Lynn Williams and Debinha coming and just tried to get it past the first defender and the goalkeeper hoping they wouldn't get it and Debinha came in with such a great header, it was absolutely tenacious."
New Digs
The goal stood for the final result, the Courage's second straight 1-0 win in the 2017 season. It will also stand as the Courage's first goal at their new home, Sahlen Stadium at WakeMed Soccer Park.
Riley said he had been talking to his team about making an impact in their new hometown. "It was a fabulous night," Riley said. "We talked to the players all week about a historical moment. I said to them 'you'd better have something ready after the game that's different. Don't be settled with just a few handshakes going into the crowd, you need to get them on our side, we need to get them here again'."
Cary is a women's soccer powerhouse, home to several top clubs and perennial ACC contenders. McDonald is an alumna of UNC-Chapel Hill with whom she won a National Championship in 2008 at WakeMed Soccer Park, defeating Courage teammate McCall Zerboni's UCLA team in the semifinal, so she was one of many players with local connections on the field Saturday night.
"I have to say, it's such a soccer town that I wasn't even surprised that we got the crowd that we did," McDonald said. "This got us amped, the fact that they were loud, that they were engaged in the game, that's what gets us pumped up. As long as the fans are engaged, we're going to have a good performance and I think that the way they reacted to this game I just thought they were absolutely incredible. What an incredible environment. We couldn't ask for anything more than this."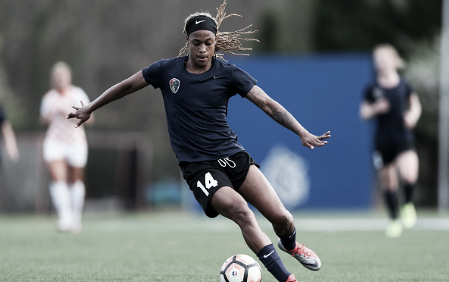 Onwards and Upwards
With the result, the Courage become the only team with two wins in the first two weeks of the season. It's still early, but the level of organization with which the Courage handled the Thorns is a promising sign for a team that has worked hard in the offseason.
"We're still trying to go with the same mindset we did last season, trying not to have that pressure, that chip on our shoulders just because we're the defending champs," McDonald said. "So I think adding some of the foreigners we have, from Yuri from Japan and Debinha playing the #10 for us from Brazil, they just add a whole other style of football onto the field so I think that's just something big for us as a team to add such great characteristics to this team."
The improvements go beyond the addition of experienced internationals. So far at least, the Courage have integrated them into a team built on youth, and the cohesion paid dividends on Saturday.
Some of that is visible to Riley in his team's mentality: "We're a little bit more resilient than last year, I think a little more experienced than last year," Riley said. "So I think we learned a lot last year because we were very young and I think we're a little bit more mature now. Sam's a much different player from last year, Lynn Williams is a much different player from last year, and I could go through the line: Abby Dahlkemper, Jae Hinkle, Taylor Smith, Makenzy Doniak. We're a fun group, we're young still, and there's a lot of energy and a lot of resilience to the group and we're excited for the future for sure."
Both teams are at home for a 4 pm ET match next Saturday. The Thorns return to Providence Park to host the Chicago Red Stars, while the Courage bring Marta and the Orlando Pride to town. The Thorns' match will be televised on Lifetime and the Courage game will be available via go90.