The Washington Spirit announced today that they have signed forward Crystal Thomas to their roster for the 2017 National Women's Soccer League season. Due to team and league policy, the details and terms of the deal were not disclosed.
The Georgetown product finished her college career with 31 goals and 17 assists last semester. She helped the Hoyas make their first-ever NCAA College Cup appearance in 2016 while scoring 11 goals this past season. She scored the game-winning goal in Georgetown's 1-0 win over Santa Clara in the NCAA Tournament which punched the Hoyas' ticket to the College Cup.
Before making her mark on Georgetown, Thomas spent two seasons with Notre Dame. She was the first freshman in Notre Dame history to lead goals in 2012, and in 2013 she was called up to the US U-20 Women's National Team.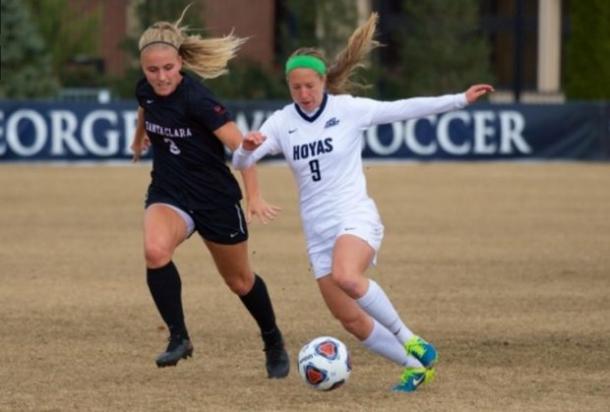 On the national team level, she was most recently called up to the US U-23 Women's National Team camp in January to kick off 2017. Thomas has been with the Washington Spirit since the start of preseason.
Spirit general manager and head coach Jim Gabarra said in the official press release, "Crystal came in from day one of preseason and has provided good energy and high level of intensity to our team. She offers a lot of good attacking qualities as well as an understanding of our style of play. We look forward to seeing how Crystal takes this opportunity."
aThe Spirit continue their 2017 campaign at home on Maureen Hendricks Field when they host the Houston Dash on Saturday, April 29. Kickoff is scheduled for 7 pm ET and will be streamed on the go90 app as well as their website.