Sky Blue FC hosted FC Kansas City in the final match of Week 3 of NWSL play. The New Jersey side began their season with a two-game road trip and a 0-1-1 record meaning they came into their home opener in 10th place. FC Kansas City made the trip to Piscataway, N.J. hoping to bounce back from their 1-0 loss to Chicago last weekend. The result was a predictably shaggy affair as both teams were playing without several key personnel: Sky Blue were without Christie Pearce, who was dealing with a concussion, and Sam Kerr, who traveled back home to Australia to collect an award. The FCKC Blues were without Shea Groom who sustained a broken rib in their last game as well as Amy Rodriguez, who tore her ACL on the opening weekend.
Teams share few chances in opening 45
As was to be expected for two teams missing several starters including their principal attackers, the first half opened slowly as both teams tried to build a rhythm with unfamiliar players on the field.
FCKC tried to force Sky Blue's young backline, which featured two 2017 NWSL College Draft picks, a player selected from 2016 open tryouts, and 23 year old Erica Skroski as its senior member. The Blues thought they had the opening goal in the 34th minute when Sydney Leroux rounded SBFC keeper Kailen Sheridan and scored on the empty net, but the goal was called back for offside. The player who served her in initially, Brittany Ratcliffe, was involved again in the best chance of the first half. Maegan Kelly, in her first start for the club, slipped Ratcliffe behind the Sky Blue backline, but her shot was blocked by an onrushing Sheridan who did well to deny the opportunity.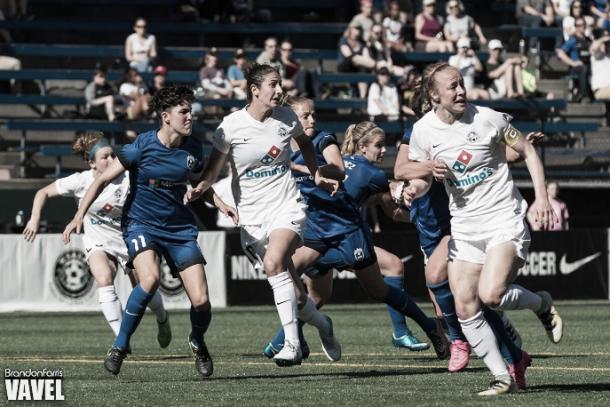 Late drama favors Sky Blue
Sensing a vulnerability, Kansas City picked up the pressure on Sky Blue's backline in the second half. Sheridan had several close calls with Leroux, and once saw her throw blocked at close range by Ratcliffe. Their pressure led FCKC to have the better opportunities through the opening minutes of the second half, but Sky Blue got back into the game in the 78th minute with some interplay at the top of Kansas City's penalty area. Daphne Corboz back-heeled the ball to Kelley O'Hara and immediately got it back in a give-and-go. The midfielder struck a hard shot that Barnhart bobbled but recovered before a crashing O'Hara had time to finish it.
FCKC had a chance at the other end, but Sheridan came off her line well to block Becky Sauerbrunn's shot and preserve Sky Blue's shutout. The game's decisive play came soon after in the 82nd minute, when second half substitute McKenzie Meehan took a shot that Barnhart knocked out of bounds, setting up a corner for the home team. O'Hara took the corner and it landed at the feet of Mandy Freeman, who took a soft shot that deflected to Raquel Rodriguez, who finished perfectly from six yards out for the 1-0 lead. The goal was Sky Blue's second of the season and their first from the run of play.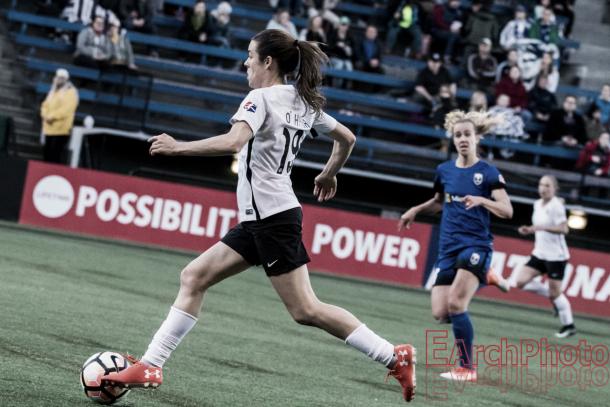 FC Kansas City thought they had an equalizer in the 88th minute, but the referee judged Ratcliffe to have strayed offside redirecting Christina Gibbons' cross. Gibbons was involved a minute later when the rookie came up big for the Blues by blocking a shot by O'Hara, who looked to have an open view of goal. Stoppage time played out scorelessly, and Sky Blue came away from their first game at home with three points in hand.
Both teams are in action next weekend, and both are taking on the two remaining teams without a win so far. Sky Blue FC is on the road to the Washington Spirit on Saturday, May 6 at 4 pm ET, while FCKC return home to host the Orlando Pride on Sunday, May 7 at 8 pm ET.