Sky Blue will travel to Maryland to take on the Washington Spirit in the fourth week of NWSL play. Sky Blue is currently sitting in the middle of the table at sixth place, with the Washington team in ninth place.
Having finished in second place during the 2016 season, the Spirit is having a harder time finding a rhythm after the departure of many of their stars over the past two seasons.
With Crystal Dunn playing for Chelsea, and Ashlyn Harris and Ali Krieger moving to Orlando, the national team core is no longer there, and their roles must be filled by new, young players. Sky Blue is currently 1-1-1 in league play and will be looking to improve on that record.
Sky Blue looking to find momentum
Sky Blue had an average year in 2016, finishing in seventh place, and is looking to break into the top half of the table. They haven't won a game since their home opener in which Raquel Rodriguez finished a ball in the 82nd minute to shut out F.C. Kansas City and take their first victory. Rodriquez, who came to the team from Penn State last year is growing more into her role with the team and getting more comfortable as a professional.
USWNT player Kelley O'Hara has continued to be integral to the team. Her constant movement up and down the sideline has been positive for the team and will be something to watch for this weekend as she looks to exploit the Spirit's defense. Christie Pearce, the long time rock of Sky Blue's defense, has been out with an injury on and off, so an important key to success will be filling her role and keeping a solid back line.
Sky Blue's potential success will be defined by their ability to exploit the holes in Washington's new formation and expose their rookies as they attempt to get acclimated to their new team and a new schedule.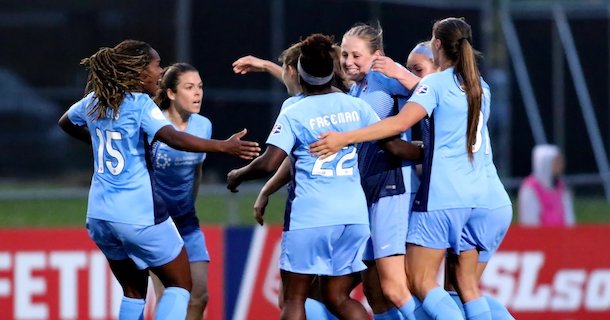 Washington Spirit looking for their first win
After a trip to the NWSL final in 2016, last year's powerhouse is struggling to get their footing in the new season. With two wins and one draw against Orlando, who is sitting in last place, the team really needs a win to boost morale. The departure of fan favorites has not helped, but the rookies are doing their best to fill the roles. Arielle Ship, a recent graduate of University of California - Berkeley, has made an impact as an effective young player.
CANWNT Goalkeeper Stephanie Labbe and defender Estelle Johnson were both named to the NWSL team of the month for their performance through the first three weeks, so their combination as a defensive team may prove to be more of a challenge than Sky Blue is expecting. Line Sigvardsen Jensen has been effective in the midfield, and her playmaking skills will play a large role in Washington's formation this weekend.
The matchup between these two teams has always been fairly even, so the three points will likely go to the team who can create their own edge, whether that is with creativity or mentality.
Game Details
The match will be played at the Maryland Soccerplex in Boyds, Maryland at 7 pm on Saturday, May 6th. The match will be streamed through the go90 app and website.