Seattle Reign FC 1 - 1 Orlando Pride
Full-time: And that's that. Seattle will not be happy with themselves after giving Orlando a way back into the game so cheaply while Orlando will gladly take the point away from home.
90'+3 Marta fouls Fishlock and the Reign have one more opportunity to attack the Orlando box. Rapinoe's set piece finds Fishlock but her header is weak and Stanley picks it up easily.
90'+2 Rapinoe plays the free-kick short to Barnes who finds Fishlock but her lay off is too long for Johnson and Stanley gets onto the ball quickly.
90' CHANCE! Kawasumi almost wins it for the Reign but her sliding effort comes off the near post and away.
89' Rapinoe cuts inside but her effort goes over the crossbar.
87' SUBSTITUTION: Danica Evans comes in for Camila as Orlando's third and final change.
83' YELLOW CARD: Camila finds herself in the book after more than one foul called on her.
83' Seattle win yet another corner is Orlando seem content to hold onto the draw. The away side clears their lines well after the ball bounces around in the box.
81' Seattle win two corners in a row but nothing comes of them. The home side is pushing for that winning goal here. Now they win another free-kick but Rapinoe sends it straight to Stanley.
79' Rapinoe holds off two players before winning the free-kick. Her delivery finds McNabb but her header is straight at Stanley.
78' SUBSTITUTION: Maddy Evans comes in for Spencer.
77' SUBSTITUTION: Kristen McNabb comes in for Yanez.
76' Catley receives some treatment as play is halted for her. She gets up quickly and seems fine to continue.
74' Stanley punches Rapinoe's delivery away but the ball comes to Utsugi who's cross is deflected out for another Seattle corner. The corner is headed away and Rapinoe puts in another cross but no one is able to reach it and goes all the way out for a throw-in on the other side.
73' Johnson chases down the ball ad beats Kennedy to it but no one is there to take advantage of her cut back. Another Seattle corner is incoming.
72' Camila takes another pop at goal but it doesn't trouble Kopmeyer.
71' Rapinoe stand over another free-kick after she was fouled by Kennedy. No one gets onto the end of her delivery though and Stanley collects the ball under no pressure.
70' Edmonds is down on the field again after being fouled by Yanez but she gets up quickly.
69' Play has stopped now for Edmonds to receive some medical attention.
68' The Reign get forward quickly and Catley has to be strong in the air to prevent Johnson from reaching Rapinoe's one-touch cross.
67' Orlando have a series of corners that Seattle deal with well.
66' Seattle are struggling to find their fluency from the first half and have conceded another free-kick. The ball is played out wide to Steph Catley and Corsie has to be alert at the back post to take the ball away from an incoming Jamia Fields.
64' SUBSTITUTION: Katie Johnson comes in for Nairn.
64' Nothing comes from the corner kick and Seattle regain position.
63' Edmonds nicks the ball off of Kawasumi and goes for goal from a long way out but Kopmeyer is there to make the stop.
61' Seattle win another corner and Orlando clear it away at the first time of asking.
60' Spencer has a go from outside the box but Kopmeyer gets her positioning right and catches the ball fairly easily.
58' The ball bounces around in the box and Fishlock brings the ball down before laying it off for Rapinoe. The midfielder can't keep her shot down and it goes over the crossbar.
57' Seattle come back again and Yanez holds the ball up well before getting pushed in the back by Pressley. Another Seattle set piece coming up.
57' CHANCE! Seattle get forward and Pickett has a shot on goal but it hits the enear post and goes out for a goal kick.
That goal had been coming as Orlando was the more determined team coming into the second half.
Seattle Reign FC 1 - 1 Orlando Pride
After making a big save, Kopmeyer is the guilty party as her pass out is intercepted by Camila. The ball falls to Marta in the box and the Brazilian makes no mistake.
52' GOAL! Marta equalizes for the Pride!
51' CHANCE! Kopmeyer comes up with a great save as Marta had gone to curl her effort into the far corner. Great save by the goalkeeper.
51' Pickett concedes the corner after the free-kick was headed towards Spencer. It's cleared by the Reign defense but Orlando maintain possession.
50' YELLOW CARD: Rapinoe is next to go into the book for dissent.
49' The set piece is easily dealt with by Seattle.
49' YELLOW CARD: Lauren Barne gets the first card of the game after Marta is brought down due to a combination of her and Corsie challenging the Brazilian.
48' Camila has the first shot of the half but it's an easy take for Kopmeyer.
46' The second half starts with Seattle kicking it off.
Half-time: The first real chance of the game is taken by Seattle and it puts them one goal up at the break.
45'+2 After a riding a few challenges, Marta earns her team a free-kick that she stands over. The ball goes past everyone and Pressley tries to send it back in but Corsie is there to punt the ball up field.
45'+1 Pressley gets her foot onto the corner and Orlando are able to clear their lines.
45' Camila brings down Nairn after some nifty footwork from both Nairn and Rapinoe had the Reign marching down the field again. As always, Rapinoe stands over the set piece. The ball comes in and Pressley has to head it out for another Reign FC corner.
42' Nairn earns another corner for Seattle and this time, Orlando gets the ball away well.
Seattle Reign FC 1 - 0 Orlando Pride
Rapinoe's corner is given back to her by Fishlock and the US international puts in a great cross into the box. Stanley comes out and flaps at the cross which lands at Rachel Corsie​'s feet. The defender aims towards goal and Yanez is there to deflect it in.
40' GOAL! Seattle takes the lead!
39' Rebekah Stott gets forward and can't beat the first player with her cross. The Reign get another corner. It finds Fishlock but she's closed down quickly and Rapinoe gets a second chance to put in another corner.
38' Orlando gets forward again and this time it's through Kristen Edmonds but her shot goes straight to Kopmeyer again.
36' Spencer gets forward again and goes up against Carson Pickett. Her cross only finds the gloves of Kopmeyer though.
33' Seattle are applying some pressure now but Orlando are dealing with it well. The attack ends when Rapinoe puts in a heavy challenge on Spencer and concedes the free-kick.
30' Now Orlando get the free-kick near midfield after Fishlock commits the foul but the Pride aren't able to make anything of it.
28' Fishlock gets her head to the ball and Stanley makes a good diving save but the play is called dead after Fishlock is deemed offside.
27' Yanez gets fouled by Dani Weatherholt and Rapinoe steps up to take the free-kick.
26' SUBSTITUTION: That is Harris' night done as Caroline Stanley comes in for her.
24' Play has stopped here as Ashlyn Harris is down and seems to have picked up some kind of knock on her hip as she took that goal kick.
23' Well. That was disappointing for Reign fans. Rapinoe sends her corner straight into the side netting.
22' Rapinoe sends the ball into the box and Kawasumi tries to find some space to get the shot off but Toni Pressley steps in to clear it away at the last second. Rapinoe gets the ball back and wins a corner.
18' Orlando get the ball back and Camila finds Marta on the far post again. The Brazilian can't quite get over the ball and sends her header over the bar.
18' The ball eventually falls to Camila but she gets her angles all wrong and sends her long range effort over the goal.
17' Orlando work the ball and Krieger sends in a cross to the far post where Marta was waiting. The cross is too high for Marta but Orlando keep the ball.
16' Kawasumi finds room out wide and picks out Nairn in the box. Her touch fails her and she send her shot way over the bar.
14' Fishlock gets completely taken out in midfield and get the free-kick. She seems very upset with the lack of further punishment on Camila who had committed the foul.
11' Kennedy is called into action again as Fishlock tries to feed Yanez trough on goal. The Reign have a throw-in deep in Orlando's half now.
9' Jasmyne Spencer uses her pace to get into the box and squares the ball towards Marta but Hayley Kopmeyer gets a big hand onto it, pushing it away from danger.
7' Jess Fishlock almost gets onto the end of a pass in the box but again Kennedy is there to make a good tackle. The Reign midfielder is slow to get up but waves away the trainers.
6' Orlando are pressing high but Seattle bypass the pressure very well. Nahomi Kawasumi looks to go cross field to Megan Rapinoe but her pass is cut out by Ali Krieger.
4' The corner is cleared by Orlando although the Reign were asking for a handball. Nothing doing says the referee.
3' Seattle get an early attack going which Alanna Kennedy has to be quick to cover and make a late tackle to stop Beverly Yanez from capitalizing on Christine Nairn's cross.
1' The Orlando Pride start this game off!
We're only minutes away from the start of this game so make sure you've grabbed all your snacks and drinks!
No changes from either side after their big performances last week. If Seattle win tonight, they go into second and if Orlando win tonight, they could move into eighth. It should be a good game tonight for all of those who've managed to stick around for it.
Orlando Pride Starting XI: Harris; Krieger, Kennedy, Pressley, Catley; Edmonds, Weatherholt, Camila, Spencer; Fields, Marta.
Seattle Reign FC Starting XI: Kopmeyer; Stott, Corsie, Barnes, Pickett; Nairn, Utsugi, Fishlock; Kawasumi, Yanez, Rapinoe.
Good evening everyone and welcome to the final game of Week 6 in the NWSL. Starting lineups for the both the Seattle Reign and the Orlando Pride next up.
Seattle Reign FC 3 - 1 Orlando Pride
Prediction: Seattle have lost only two home games at Memorial Stadium since they moved there in 2014 and that trend may continue this weekend. At home, the Reign are almost impossible to beat and are capable of pulling off big wins against the very best teams in the league. The Pride may be coming off a big win themselves but in Seattle, the Reign may prove too much for them to handle.
Managing the two sides will be Laura Harvey for the Reign and Tom Sermanni for the Pride. The referee assignments are also out with Timothy Ford being the center official for this one and he will be assisted by Jeremy Kieso and Alicia Messer on the sidelines. The fourth official on the day will be Cephas Quartson.
Projected Lineup for Orlando Pride FC (4-3-3): Harris; Krieger, Kennedy, Pressley, Catley; Edmonds, Weatherholt, Camila; Ubogagu, Fields, Marta.
Projected Lineup for Seattle Reign FC (4-3-3): Kopmeyer; Stott, Corsie, Barnes, Pickett; Fishlock, Utsugi, Nairn; Kawasumi, Yanez, Rapinoe.
The match will be played at Memorial Stadium in Seattle, WA on May 21st, 2017. The game will broadcast on go90, NWSLSoccer.com and the NWSL app at 9:30 PM EST.
Again, just like Seattle, the defense is Orlando's 'Achilles heel'. Even with the likes of Ali Krieger, Alanna Kennedy, Steph Catley and Ashlyn Harris in their ranks, the Pride has been too easy to slice through for opponents. They have conceded eight goals this season and with their offense previously stuttering, this has made it difficult for the Pride to pick up points early on. As the offense grows, the pressure on the Orlando backline should recede but they will be facing a team in Seattle that can make any defense look sieve-like when they come to Seattle. The Pride will have to be near perfect if they are to stop a very potent Seattle front line and come away with anything from this game.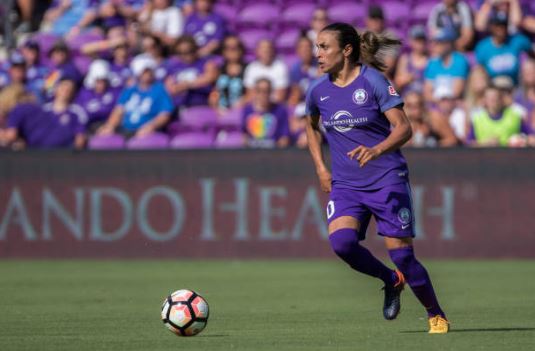 Like Seattle, the Orlando Pride are also coming off an impressive win. They found a way to pick up a big three points away to the current table toppers, North Carolina Courage, and pushed themselves into ninth place overall in the league. It was a performance that Pride fans have not seen from their team in a long, long time and many will hope that they will bring that sort of performance to Seattle this weekend. The introduction of Marta has certainly helped the Orlando offense but it's been the performance of another Brazilian, Camila, that has given Orlando the attacking threat that they showed last weekend. If those two continue to feed their teammates in the right area, they could cause Seattle all kinds of problems throughout the match.
Where Seattle tend to falter is in their defense. Hayley Kopmeyer has been outstanding in goal but it's those in front of her who have been inconsistent. The Reign have conceded nine goals this season, the third-highest in the league, which shows that they can be breached. Most of the goals have come away from Memorial Stadium but that does not mean that there is not a way past the Reign at home. The introduction of Rachel Corsie into the first team has stemmed the tide a little but there is a feeling of fragility in the Seattle defense that has not always been there in previous seasons.
Seattle Reign FC at home are probably the best team in the league and have used their home form to push themselves into second. They have made Memorial Stadium a fortress that has yet to be defeated and will look to keep that record intact this weekend. With the likes of Nahomi Kawasumi and Megan Rapinoe in fantastic form right now, not many would bet against the Reign keeping their home record at the high standard it currently is. Rapinoe leads the league in goals with four for the season and Kawasumi has the most assists in the league with four. Seattle is also the highest scoring team in the league and coming off a great performance that saw some of their best players rise to the occasion. Kawasumi, who earned Player of the Week honors recently, and Rapinoe were ably assisted by Christine Nairn and Beverly Yanez last time out and if Seattle wants to make the playoffs this year, they will need those players to continue on in this form.
Many things can change in a week and for these two teams, that has definitely been the case. Two weeks ago, the Seattle Reign left Portland feeling like they had missed a golden opportunity after allowing Portland Thorns FC to come back late a snatch a 2-2 draw and the Orlando Pride had battled to a 1-1 away to FC Kansas City. Then last weekend happened and both teams put on a good showing with the Reign putting six goals past the Washington Spirit and Orlando winning away at the North Carolina Courage by three goals to one. Those performances have set Sunday's match up to be an interesting one as both teams will feel that they have what it takes to get all three points.
Hello and welcome to the final game in Week 6 of the National Women's Soccer League! This live update for VAVEL USA will be done by me, Kudzi Musarurwa, and I will be helping you stay updated on the match between Seattle Reign FC and the Orlando Pride.