The Washington Spirit will travel to Kansas City on Saturday to take on FC Kansas City in the seventh week of NWSL play. The two teams met last week, resulting in a narrow victory for Kansas City. As the season shifts into full gear, it is becoming even more important that the Spirit step up their game and win their weekly matchups if they want to have any place close to the middle of the table, a far cry from their leading role this time last year. FCKC, on the other hand, is sitting solidly in sixth place, with a playoff spot not entirely out of possibility, so the stakes for them continue to grow as the weeks progress. Both Washington and Kansas City know how first place feels, being NWSL finalists and champions in past years respectively, and both are fighting for that feeling again, making this week's matchup especially contentious.
Mal Pugh looking to get more integrated with the Spirit
U.S. International Mallory Pugh made her professional debut with the Washington Spirit last week at the young age of nineteen, making the transition after less than a semester at UCLA, where she was offered a full scholarship to play. The Colorado native is not the youngest to have ever played in the NWSL, but she is very close, and her youth is an asset to the Spirit. She has been successful with the national team due to her creativity and tenacity on and off the ball, and that is something she can also bring to the Spirit. In addition, Arielle Ship too brings that energy to the forward role. A recent graduate of University of California - Berkeley, she has already woven herself into the framework of the Spirit team. The Spirit have a wealth of young players at their disposal, and what they lack in experience they make up for in energy, which could give the Spirit a unique edge over FC Kansas City.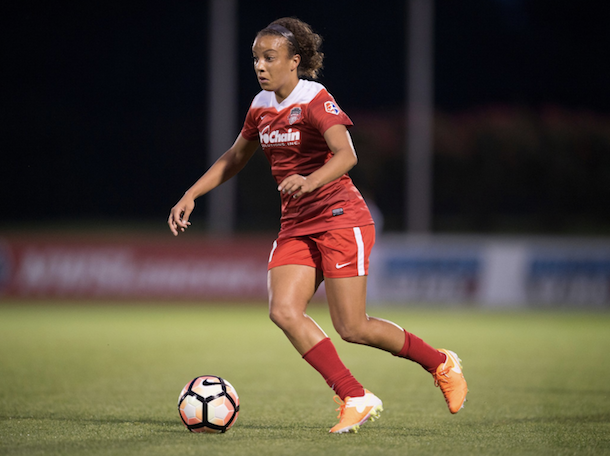 Alexa Newfield looking to continue being impactful
After scoring the team's lone goal in their first road win of the season, Alexa Newfield will look to put more behind Stephanie Labbe this weekend. A graduate of the University of North Carolina, Newfield has logged eight appearances and two starts since beginning her career with FCKC in 2016, so efficacy will be key to more time for her as the season goes on. Christina Gibbons, who launched the ball, also brings youth to the team's defense, and the recent Duke graduate may be the best option to keep up with Washington's young offense. Sydney Leroux will also be one to watch, as she is about to make her official return to the USWNT after taking time off to have a baby. She has always been known for her tenacity and power, so she is likely to cause many problems for Labbe and her back four.

Game Details
The game will kick off at 7 pm CT on Saturday, May 27th. The match will be played at Swope Soccer Village in Kansas City, Missouri. It will be streamed on the go90 app and website.