Seattle Reign FC released a statement today which revealed that Rumi Utsugi will be out of action for at least three to four weeks with a left calf strain. The injury occurred during a training session last week while Utsugi was with the Japan during the international break. She is now set to miss the next few matches for the Reign.
A full pre season with the team was beginning to show its effect
Utsugi joined the Reign during the middle of the previous mid-season and never really seemed to quite find her groove. This year, with a full pre season and more time spent with her teammates, allowed Utugi's qualities to shine in a defensive midfield role. Although the Japanese midfielder can play at full back, which she did for most of last year, this season she has found her place in the team at midfield alongside Jess Fishlock and Christine Nairn, to great effect.
Her eight appearances for Seattle has seen them rise up to fifth place , with a game in hand over a few teams above her, as the Reign have only lost two games out of the eight they have played so far. Utsugi's positioning and passing has been a key feature for a team that likes to maintain a lot of possession. That is why her presence will be a big miss for the Reign.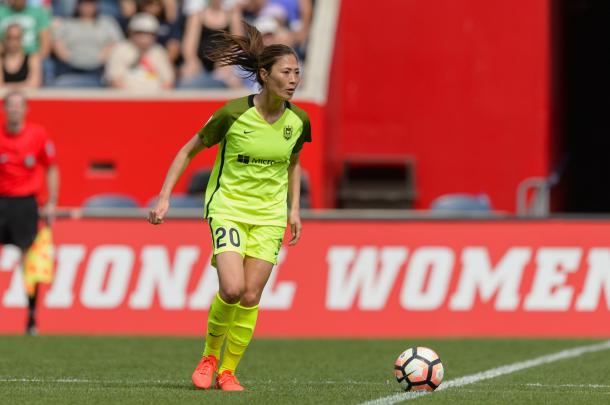 Replacements are available for Seattle
Should head coach Laura Harvey look to her bench for a replacement for Utsugi, she will find capable deputies in her roster. The first name that comes to mind is that of Lindsey Elston. Harvey could also move defender Rachel Corsie into midfield, a position she has played before, and have Kristen McNabb back into the starting line up.
The other options available to Harvey would be to tweak the formation of the team by adding an extra forward or another defender. If that is the case, someone like Katie Johnson could potentially see even more time on the field, and depending on her recovery, Australian Larissa Crummer is another option for the Reign.
The Reign would obviously prefer to have Utsugi available but they are not short of options for the matches that Utsugi is likely set to miss, starting with this weekend when Seattle travel in the National Women's Soccer League to play FC Kansas City. It will be interesting to see how the Pacific North-West team will adjust to not having the midfielder available over the next few weeks.