Nadia Nadim and Line Sigvardsen Jensen will be representing Denmark at the UEFA Women's Euro 2017 competition this summer in the Netherlands. As the only Danish players in the National Women's Soccer League, their progress leading up to the competition and during it will be closely watched by many in the hopes that these two players will shine with their compatriots.
Nadim and Jensen could be missing close to a month of league action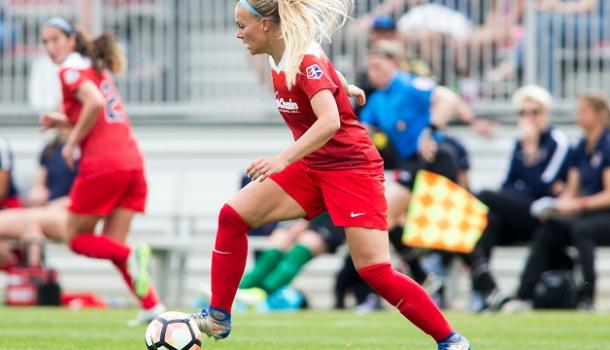 'Euro 2017' is set to begin on July 16, 2017, and the final has been set for August 6, 2017. Depending on how deep Denmark go within the competition, Nadim, who plays for Portland Thorns FC and Jensen, who plays for the Washington Spirit, may miss up to a month's worth of league action. They will be required to meet up with their national team before the tournament starts and may be rested after their efforts in the competition by their club teams. Nadim has been at the forefront of the Thorns' league standing currently, topping their goal scoring chart with four goals and also pitching in with one assist in eight starts. Nadim will want to carry that form into this summer's competition and help her country get to at least the semi-final, as they did in 2013.
Jensen has not featured as often as Nadim has for the Spirit but in her nine appearances, she has managed one goal and one assist. The Spirit have not had the best of starts to the season as they currently sit in eighth with only two wins out of nine games so far this season. Jensen has performed admirably given the circumstances and her head coach, Nils Nielsen, will be hoping that she can raise her standards for the national team should he call her up to start during Euro 2017. Former NWSL and Seattle Reign FC player Katrine Veje has also been included in the full roster.
Harder will be the difference-maker for Denmark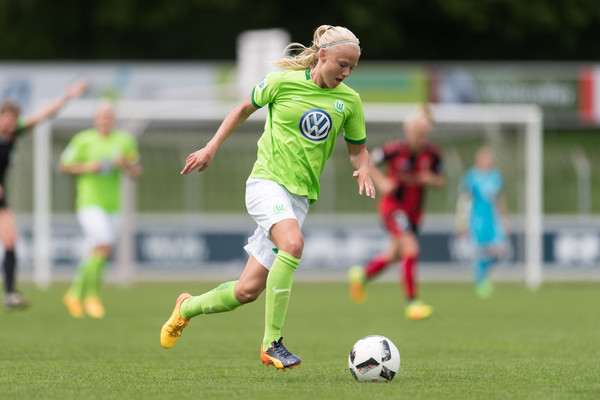 Danish fans will look to one player, in particular, to lead their country to glory. VfL Wolfsburg's Pernille Harder has always been a gifted forward and captain for her team but her performances were shown on an even bigger stage this past season after signing for the German champions in 2017. Wolfsburg may have been knocked out in the UEFA Women's Champions League quarter-finals by eventual champions Olympique Lyonnais without Harder scoring any goals in the competition but the Dane was one of the most dangerous players during that match up.
In the Frauen-Bundesliga, Harder was one of the better performers for the now league champions, scoring six goals throughout the campaign. Her work rate and creativity played a huge part in Wolfsburg regaining their form in the latter stages of the season and eventually finishing two points clear of everyone else to be crowned champions of Germany once again. Harder was also the standout performer in the DFB-Pokal final for Wolfsburg when she scored two goals to help her team lift that trophy as well. In short, the Danish captain can change games in an instant and will look to do so for her country and help them win their first ever major international trophy.
Full 23-player roster for Denmark
Goalkeepers: Line Geltzer Johansen (Vejle Boldklub); Maria Lindblad Christensen (Viborg FF); Stina Lykke Petersen (KoldingQ).
Defenders: Cecilie Sandvej (SC Sand); Janni Arnth Jensen (Linköpings FC); Line Røddik Hansen (FC Barcelona); Luna Gevitz (Fortuna Hjørring); Mie Leth Jans (Brøndby IF); Simone Boye Sørensen (FC Rosengård); Stine Ballisager Pedersen (IK Skovbakken); Theresa Nielsen (Vålerenga IF).
Midfielders: Katrine Veje (Montpellier HSC); Line Sigvardsen Jensen (Washington Spirit); Maja Kildemoes (Linköpings FC); Nanna Christiansen (Brøndby IF); Nicoline Sørensen (Brøndby IF); Sanne Troelsgaard (FC Rosengård); Sarah Dyrehauge Hansen (Fortuna Hjørring); Sofie Junge Pedersen (FC Rosengård).
Forwards: Frederikke Thøgersen (Fortuna Hjørring); Nadia Nadim (Portland Thorns FC); Pernille Harder (VfL Wolfsburg); Stine Larsen (Brøndby IF).