For the second consecutive matchup of the 2017 NWSL season between Seattle Reign and FC Kansas City, the teams end up in a tie, earning a point each. This time, both sides only allowed one goal in a 1-1 draw at Seattle's Memorial Stadium in front of 3,919 fans.
FC Kansas City Advantage
FC Kansas City gained an early advantage in the fourth minute when Seattle defender Lauren Barnes received a red card for taking down Kansas City forward Shea Groom by the arm near the Seattle box. No amount of pleading and reason from the Seattle players would convince referee Ekaterina Koroleva to doubt her call. The Reign would have to play with only 10 players for the rest of the game. Groom favored her right arm after the takedown and received treatment. She eventually returned to the game wearing a protective sleeve on her elbow.
The advantage allowed Kansas City to score a goal to take the lead in the 15th minute. Defender Yael Averbuch set up a pass to midfielder Alexa Newfield who beautifully flicked a pass to forward Brittany Ratcliffe. This would be Ratcliffe's first NWSL goal.
Kansas City continued to pressure Seattle, taking full advantage of Seattle without Barnes, hoping to extend their lead, with their best chance near the end of the first half. Brittany Taylor delivered the ball to Newfield, who had an opportunity on top of the 6-yard box for a shot. Her shot on goal was saved goalkeeper Hayley Kopmeyer.
Seattle Never Gave Up
Despite playing with only ten players, Seattle returned for the second half determined to equalize, even as Kansas City returned with a series of shots in the 49th minute, including one that could have put the Blues up by two after a Groom shot, but all of which would be saved by Kopmeyer.
A minute later, Megan Rapinoe received a through ball, putting her on target for a shot on goal, but goalkeeper Nicole Barnhart came up with the major save. The stop led to a Reign corner kick. For a brief second, it looked as if the Reign had come up with a goal after the set piece, but it was saved off the line by Brittany Taylor, and eventually cleared away from the box by Leroux's bicycle kick.
It wouldn't be long after for Seattle to finally succeed in scoring a goal. After two Kansas City shots by Newfield and Leroux, which did not make it inside the goal, Seattle turned possession towards the KC box. Rapinoe sent a cross that was saved by Barnhart that could have resulted in a Becky Sauerbrunn own goal. Seattle forward Nahomi Kawasumi would capitalize from the rebound with her shot finding the back of the net. Seattle would make it 1-1.
Both teams would continue to attempt to break the tie with FC Kansas City coming dangerously close. Kansas City substitute Erika Tymrak, who came in the 81st minute, found an opportunity in the 84th minute, but again Kopmeyer came away with the save.
The two minutes added of stoppage time would not be enough as the game came to an end with another draw.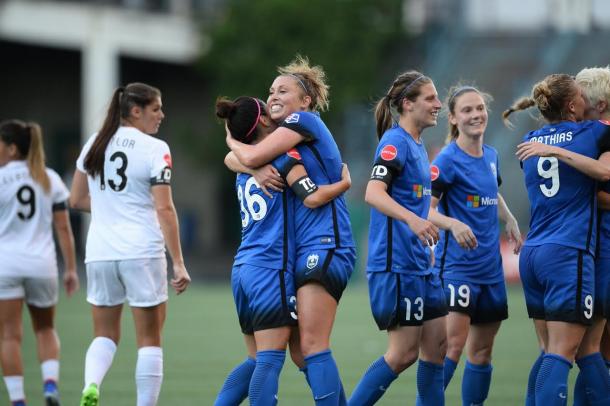 FC Kansas City (3-3-4) remains in the West Coast to play the Portland Thorns at Providence Park for a mid-week game on Wednesday. Seattle (3-2-5) will also play a mid-week game as they host the Chicago Red Stars. The Reign have yet to lose at home this season.