Four NWSL players are nominated for the NCAA Woman of the Year Award it was announced on Tuesday. 543 female athletes were nominated by their colleges and universities, across all three divisions and all sports. From this large pool, two from each conference will be chosen, and from there, ten from each division. That will be whittled down to three per division, and the awardee will be chosen from that nine.
The NWSL professionals represented include McKenzie Meehan and Raquel Rodriquez of Sky Blue FC, Christina Gibbons of FC Kansas City, and Morgan Proffitt of the Chicago Red Stars. All recent draftees, they competed collegiately at Boston College, Penn State University, Duke University, and Marquette University, respectively.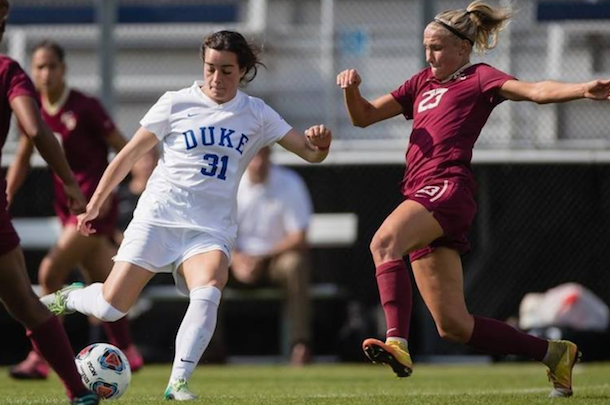 These players represent only four of eighty-four soccer players nominated for the prestigious award, notably including Kadeisha Buchanan, who, upon graduating from West Virginia, competed with Olympique Lyonnais in France. Both Meehan and Rodriguez have been successful in New Jersey, but the latter received many accolades at the college level as well, including being the Mac Herrman Trophy recipient in 2015. Gibbons has also seen a lot of the field in Kansas City, working her way to be a solid part of their defensive line. While Proffitt has not yet seen as much time with the Red Stars, her impact on their championship winning reserves team during her college years and the attention she's brought to her alma mater and its soccer program is notable.
The elimination of nominees will be made throughout the summer and into the fall, with the award winner being named on October 22, 2017, at a ceremony in Indianapolis, Indiana.