Earlier today, the Chicago Red Stars traveled to Boston to take on the Boston Breakers in the first game of NWSL play for the weekend. This is the tail end of a three-game road trip for the Red Stars, after they split two matches with a loss and a win against the Seattle Reign and the Orlando Pride, respectively. Boston was coming off of their first win in 11 games, a victory over the Washington Spirit last Saturday. Both teams were looking to continue their good luck, though Boston was still without star rookie Rose Lavelle who has been out with a hamstring strain since the last international break with the US Women's National Team.
Formation changes
Chicago lined up somewhat differently than in past games for this match, with usual striker Christen Press drawn back into more of a number 10 role, with Boston native Stephanie Mccaffrey stepping in to join Sofia Huerta up top. This was Mccaffrey's first start in over two months, and over the season her playing time had dwindled to almost nothing as Chicago's season progressed, and this was always going to be an interesting look into how she had been developing on a squad that had been humming into challenging for first place in the league without her. However, with Danny Colaprico's lingering ankle injury relegating her to the bench, Mccaffrey had a shot to really make a different for her team on Friday.
Slow start
At the first whistle, both teams stuck to their respective game-plans, with Chicago coming in hot with an early press that made it difficult for Boston to string passes together. Despite this, Boston did everything it could to bypass their midfield and spring striker Natasha Dowie in the quick counter-attack. While Chicago's defense essentially negated Boston's efforts, they were toothless in front of goal, with the duo of Huerta and Mccaffrey struggling to look sharp when given the opportunity to challenge Boston rookie goalkeeper Sammy Jo Prudhomme, who again showed her potential with a stellar night in goal. Despite Chicago's impressive ball movement and Boston's strategy, the first half ended goalless.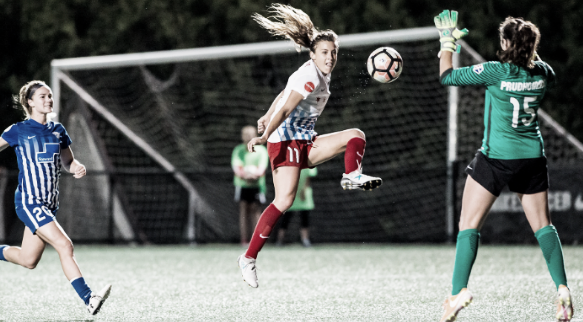 In the second half, Chicago started to show their class, by again utilizing a high press to keep possession in Boston's half of the field for long stretches. This was improved when Colaprico came in for Mccaffrey in the 61st, and Press was able to push further up into her more natural roaming striker role. Mccaffrey showed a lot of determination in her 60 minutes on the field, but her lack of previous minutes showed when she was given true opportunities on goal, and she looked unseasoned in a way that betrayed her experience. One has to wonder if she's still looking for her place on a stacked Chicago roster after joining the team in 2016.
Heading in two different directions
Ultimately, while Chicago was utterly dominant in the final 15 minutes of the match (and had a goal called back due to an offside call), the Boston defense held strong and the game ended in a 0-0 draw. Boston has to be happy with how their defensive strategy succeeded in frustrating the visitors, but Chicago must be walking away from Boston kicking themselves for not being able to get it done in front of goal, and dropping perfectly winnable points as the season moves into its tail half. With the draw Chicago moves into a tie with the North Carolina Courage for first place in the league – NC plays tomorrow – and Boston holds firm at 9th.