The National Women's Soccer League has fined two clubs, FC Kansas City and the Houston Dash an undisclosed amount.
This fine has been issued due to the clubs for "comments critical of the match officials" by Kansas City's head coach Vlatko Andonovski, Houston Dash interim head coach Omar Morales, and Houston Dash midfielder Amber Brooks after Saturday's match up between FC Kansas CIty and the Sky Blue FC as well as the Houston Dash's match against the Portland Thorns, respectively. On top of this, the Dash were fined for an inappropriate gesture made by Amber Brooks on the field during last Saturday's match.
In his post-game press conference, Kansas City's Andonovski said, "This league as has some very good referees, but some of the referees are the worst in the whole world. And, unfortunately, if we want this league to go forward, if we want good players to come [to] this league...something needs to happen...I'm proud of [my team] for trying to overcome all the challenges that were in front of them. Obviously, I don't want to take anything away from Sky Blue and [Sam] Kerr - beautiful play by them and I congratulate them on the win, but [at] the same time you know, I cannot be quiet anymore about the way the referees are reffing these games...tonight was one of the worst ones."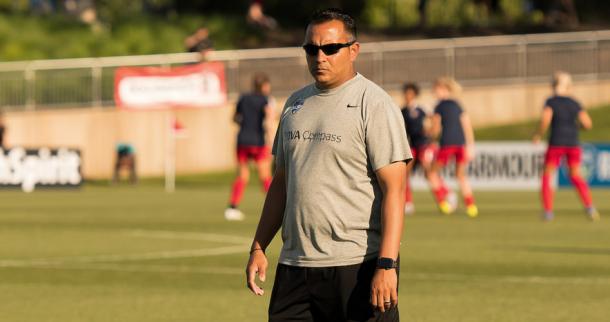 On the Dash side, interim head coach Moarles stated, "[In Lloyd's case] It shouldn't have been a red card, maybe a yellow at most. And if that is yellow then Horan should have seen seven yellows, and it's a different game...The consistency in refereeing in this league is not there. It is the most deficient part of our game, unfortunately."
Both teams continue to see action this weekend. FC Kansas City travels to take on the Orlando Pride on Saturday evening while the Houston Dash host the Washington Spirit later the same evening. Both games will be available to stream on the go90 app as well as the NWSL website.