The North Carolina Courage will travel to Portland, Oregon to take on the Portland Thorns this weekend in week 13 of NWSL Play. North Carolina sits eight points and five places above the Thorns in the table, but rankings haven't kept the Courage from being beaten in recent games, losing to Sky Blue who sat beneath them. They may be in first place, but the teams that follow them are rapidly closing in on the Courage's points, and the team can't afford to slip now.
The Thorns have had a rougher season than their Shield-winning 2016 run, so a win against a top team would serve as good encouragement for both the players and fans. Currently sitting one place away from a playoff spot in the fall, the thought of narrowly missing something they've achieved with no questions asked for the last few years will be enough to motivate the team no matter how difficult the opponent.
Thorns still suffering from lack of Tobin Heath
As the Thorns entered the 2017 season it was announced that Tobin Heath had injured her back, but would be back playing shortly. This was 13 weeks ago, and since then there have not been many positive updates of progress made in her recovery, meaning that the Thorns now have to find someone to fill her role. Known for her creativity on the ball and dominance along the wings, Heath's absence has been felt in the midfield, but slowly the Thorns have been able to fill that gap.
Nadia Nadim has been dynamic on the attack, and Lindsey Horan has been successful creating scoring chances, leading to a goal against the Houston Dash that earned her team a point. Christine Sinclair has always been a threatening forward and will test the Courage defense this weekend.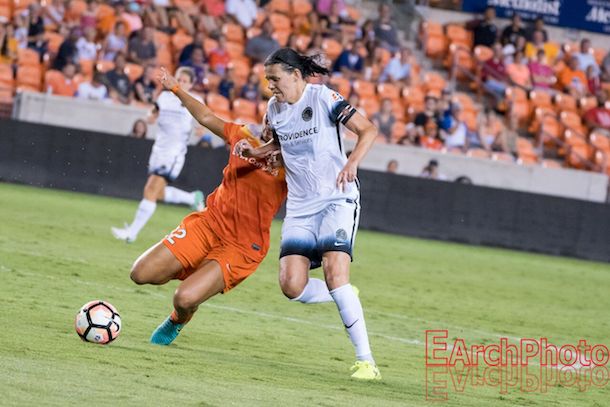 Courage looking to hold onto top of the table
The North Carolina Courage is currently holding the top position in the table by a margin of three points, and one that could easily be closed if the Chicago Red Stars win their match this weekend.
Ashley Hatch and McCall Zerboni have been dominant attackers and will prove difficult to control for Meghan Klingenberg and the rest of Portland's defensive line. Hatch has a bright future in the NWSL, and only in her rookie season leads the team in goals and has scored four times in her five starts. Kate Roland in goal will also be a challenge for the Thorns, as she has earned four of the team's seven shutouts this year.
With very few departures between this season and last, it comes as no surprise that last year's champions are finding success this year too, but last year's victory was no easy feat, and the champions can fall all too easily if they get ahead of themselves too early.
Game Details
The match will kick off at 3:30 PM on Saturday, July 15, 2017. The Match will be played at Providence Park in Portland Oregon and will be televised on Lifetime as their NWSL game of the week.