The Tournament of Nations, hosted by the United States in every summer moving forward that does not have an Olympic Games or Women's World Cup, opens this Thursday in Seattle with a match between the Brazil Women's National Team and the Japan Women's National Team. Both teams have a storied history with the host nation and have had successful runs in recent tournaments, Japan notably finishing second in the 2015 Women's World Cup and Brazil finishing in fourth place during the Rio Olympic Games. Japan currently sits two spots above Brazil in the FIFA World Rankings, a difference that is close to negligible in predicting game results, making for an even matchup and lively competition. Both teams boast stars that are making names for themselves in leagues around the world, so there are bound to be familiar faces seen all around.
Brazil and Marta are ready to work
Out of all the soccer legends to come out of Brazil, Marta is one of the best players produced on the women's side. It is no wonder, then, that the five time FIFA Women's World Player of the Year award recipient will play a key role in her team's attack. Coming to the NWSL to play with the Orlando Pride, she now plays regularly with national teammates Monica and Camila, which will translate to a better connection on the field in this tournament as well. Brazil never goes down without a fight, notably almost ending USWNT campaigns in most recent world cups and Olympic tournaments. Whether it's an elimination round world cup match or a nonconsequential victory tour friendly, the team brings an explosion of creativity and energy with them onto the field that will be difficult for Japan to control. Already one of the most famous women's programs in the world, this team will command respect from their opponents.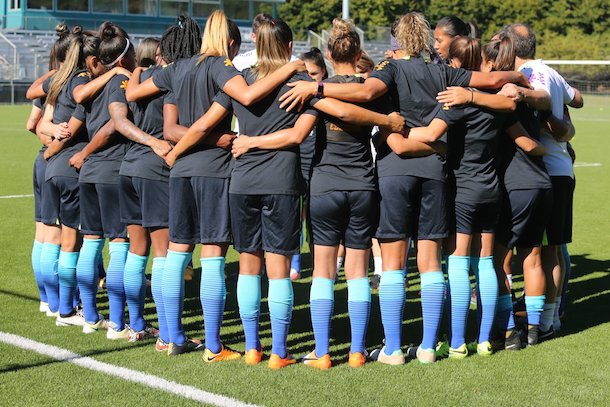 Japan more determined than ever
July 5, 2015, will go down in history as one of the, if not the, worst days for the Japanese women's national team. They lost to their long time rivals in embarrassing fashion and lost the title of world champion that they held with pride for four years. Now, on that team's home soil, competing in a tournament they're hosting, Japan is preparing for de facto revenge, because until they have a chance to beat the USWNT in 2019, nothing could be better than winning a tournament they're hosting, and that all starts in Thursday's match. The team has been going through a heavy rebuilding process after the retirement of many players key to the team's success from 2011-2015, including legendary captain Homare Sawa, and the team's young age may provide some hindrance, but with their youth comes energy that can compete with Brazil's. Rumi Utsugi is the only player on the team in the NWSL, competing with the Seattle Reign, so spectators can look to see what their adopted hometown girl will create in the midfield.
Game Info:
The Match will kick off at 5 pm Pacific time and will be played at Centurylink Field in Seattle, Washington. The game will not be televised, but VAVEL will be providing live coverage here.