After a week long international break, with lots of excitement both stateside and abroad, the National Women's Soccer League is back in action for Week 15. The Seattle Reign once again travel to face the North Carolina Courage. The Courage return to the field with their last actual game having been on July 15, when they lost 1-0 to the Portland Thorns. The Reign enter this week with their last match being on July 22, when they come out on top in a 5-4 win against Sky Blue FC.
Seattle steadily climbing the ranks
Currently at fourth on the table, the Seattle Reign are only four points away from the first place team. Their last two games resulted in three points a piece for them, making it look like the Reign are on on the rise. Although they may possibly be without their players that reported for duty with the Tournament of Nations - Megan Rapinoe for the USWNT and Rumi Utsugi for Japan, this Reign squad is more than capable of getting the job done.
Last time the Reign travelled to North Carolina, they lost 2-0 and hope to turn things around this time. Forward Lindsay Elston led the team in shots with four in their last meeting. She along with the rest of the attack will look to put away chances early and come away with three points. Their last meeting with the Courage is one of three total times the Reign have been shutout this season. Coming away with the win against a tough Courage squad will prove handy for the Reign when playoffs come closer.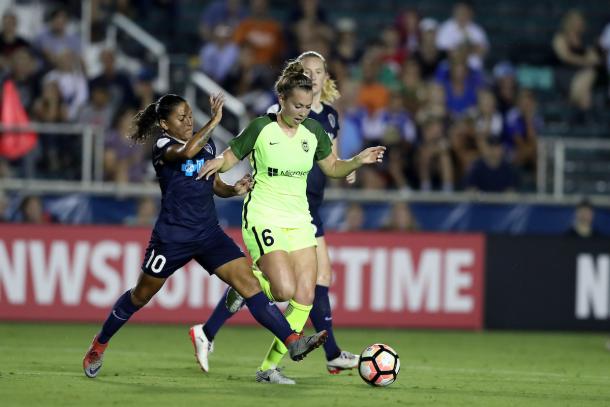 North Carolina holding on to playoffs
Although they've been knocked out of first place, the Courage are still holding on. With a win this weekend, they could possibly find themselves back on top. Their most recent match against FC Kansas City has been postponed due to weather, so the Courage are about two weeks out since their last game. Despite this, they will look to earn another win against the talented Seattle Reign.
The Courage had plenty of players involved in the Tournament of Nations - Sam Mewis, Abby Dahlkemper, Lynn Williams, and Taylor Smith for the USWNT as well as Debinha for Brazil - and it's possible these players will not be available for the Courage this weekend. Despite this, they have players such as McCall Zerboni and Jess McDonald to lead the attack. Along with the signings of Denise O'Sullivan and Nora Halstad, the Courage attack is deeper than before.
The North Carolina Courage host the Seattle Reign on Saturday, August 5. Kickoff is scheduled for 7:30 PM Eastern Time. The game will be broadcasted on the go90 app as well as the NWSL website.