Today U.S. Soccer announced the second of a two-game friendly against the Canada Women's National Team. In June, the first match to take place in Vancouver was released as the U.S. will travel to BC Place for the match that will take place on November 9th. Three days later on November 12th, the second match will be played in San Jose, California at Avaya Stadium, which will conclude the final match of 2017 for the USWNT.
Canada has reached its high peak as they currently stand in fourth place. At the 2012 and 2016 Olympic Games they were awarded the bronze medal. The latest match between the U.S. and Canada was at the 2016 CONCACAF Women's Olympic Qualifying Championship in which the U.S. celebrated a 2-0 win.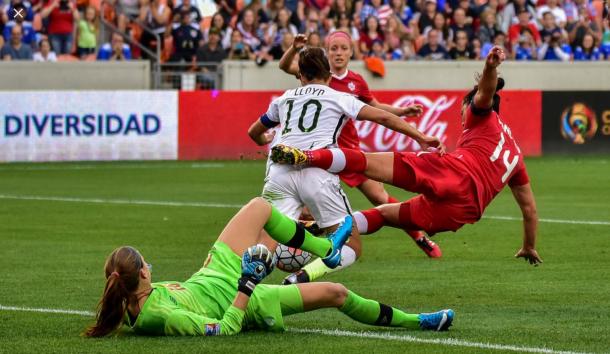 With these two-game friendlies against Canada, U.S. Women's National Team head coach Jill Ellis stated:
"The overall quality of our schedule in 2017 has been excellent and these games will be a great way to end the year. From March until November, we'll have played top teams from every Confederation except Africa and these games against Canada continue that trend while matching up two teams that are very familiar with each other. We want to continue to put our players in those challenging situations while asking them to excel. That's how we get answers and how we get better as individuals and as a group."
The U.S. has lost to Canada in 1986, 2000, and 2001 and has met on the pitch for play 56 times. Despite the several losses for the U.S. Canada has brought a challenge to the field, especially in the 2012 Olympics, but the U.S. have seen remarkable comebacks as they combine their skills.
The first match in Vancouver will take place at 7 p.m. PT and can be viewed on ESPN2. Tickets for this match are on sale and can be purchased at Ticketmaster.ca. For the second and final friendly of 2017 on November 12th at 6 p.m. PT, which will also be available on Fox Sports 1, ticket sales will be open to the public on Friday, August 25th at 10 a.m. PT.