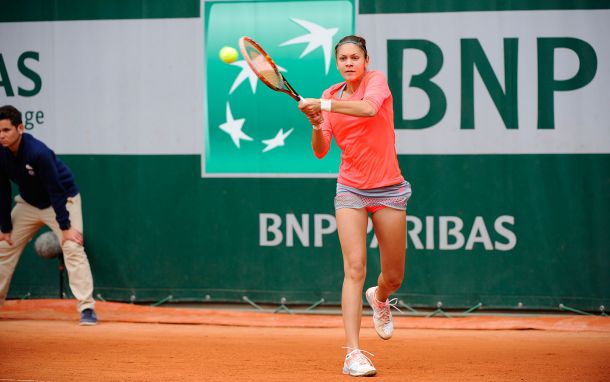 The top seeds are falling down like dominoes on the women's side as 12th-seeded Karolina Pliskova becomes the sixth player from the top fifteen knocked out of the French Open. She was defeated by Andreea Mitu of Romania 2-6, 7-6(5), 6-4. She becomes the second woman in the top fifteen to be knocked off today. Fifth-seeded Caroline Wozniacki was the first as she lost to Julia Goerges.
The first set was a dominating one for the big-serving Czech. 92 percent of first serve points won, 71 percent of second serve points won, and winning nearly half of her return points made Mitu look subpar at best. She converted two of her three break points in the set while the Romanian didn't even get a single look at a break point. At this point, it looked like Pliskova was going to cruise given how dominant she was, little did she know that she'd be up for a battle.
Both women were firing on all cylinders in the second set. The Czech pounded out 21 winners, 12 of which were aces. Meanwhile, Mitu hit 22 winners of her own. This was a set of missed opportunity for both ladies as they went an astounding 2/21 combined on break points (Pliskova: 1/6 Mitu: 1/15). The second set came to a tiebreaker as Pliskova looked to close out the match in straight sets, but Mitu was just slightly better in the breaker to win it and take the set 7-6(5).
The level of play dropped off when you compare the second and third sets, but nonetheless, some exciting tennis was displayed. It was a break-filled final set as the women combined for five breaks in the ten games played. What decided the final set was who could perform better on their second serve, and ultimately it was Mitu who did that winning 45 percent of those points compared to 30 percent for Pliskova. As it was mentioned earlier, Pliskova is the sixth top fifteen seed to lose along with 15th-ranked Venus Williams, 5th-seeded Caroline Wozniacki, 6th-seeded Eugenie Bouchard, 14th-seeded Agnieszka Radwanska, and 3rd-seeded Simona Halep. Mitu took the final set 6-4 and will face 2010 French Open champion Francesca Schiavone in the third round after she beat 2009 French Open champion Svetlana Kuznetsova in 3 hours and 50 minutes, the third-longest match in French Open history.