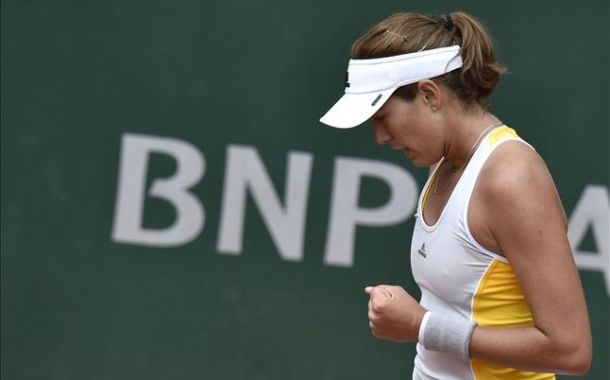 Angelique Kerber was the favourite for this match, coming off a win in the clay tournament of Stuttgart and a semi-final showing in Nurnberg. Garbine Muguruza had not reached past the fourth round of any clay event this year so far; therefore, she was at an immediate disadvantage.
Kerber got off to a brilliant start, immediately breaking Muguruza's serve to 15. She made it to 3-1 before Muguruza struck an amazing backhand down the line to break back and hold to equal the score, but Kerber was too strong and again broke to lead 4-3. For the third time in the match, Kerber held serve in a game that included many long, extended rallies ending in winners, demonstrating the physicality of the encounter. Muguruza held to love and avoided a double break set, 5-4. In a stunning love game from Kerber that began with a 17-shot rally and resulted in a scorching forehand winner, Kerber seized the set 6-4 in 34 minutes.
Muguruza came out to make a stand at the start of the second set, holding to love with a series of forced errors from Kerber, but the German wasn't fazed and held easily herself for 1-1. Kerber pushed in her opponent's next service game, achieving a break point with a double fault from Muguruza; however, it was saved with a forehand winner, and the underdog went on to hold. Both held once more before Muguruza broke and consolidated, going ahead 5-2. Kerber's level visibly dropped once she had been broken, and it wasn't long before she faced a set point against her; a huge roar of "Vamos!" saw Muguruza break once again to take the set in just 28 minutes with a brilliant backhand cross court winner.
It was evident that Kerber was still intending to fight for the match as she broke in a long game at the very start of the third set. However, Muguruza wasn't ready to let this match go either and immediately broke back with an acute cross-court slice. Kerber managed to get back on serve 2-3 before being broken again with her own netted backhand; by this point, it was clear Kerber was tiring, which further encouraged Muguruza to play all-or-nothing tennis. Muguruza then dominated for the rest of the match, holding and then stealing the win by breaking Kerber again at 15 with a backhand winner at the net -- 4-6, 6-2, 6-2 -- in 1 hour and 37 minutes.