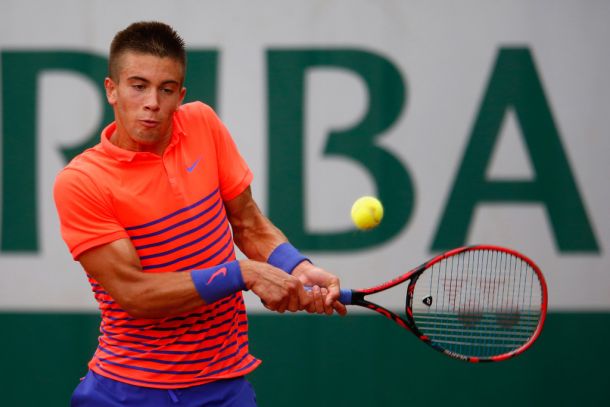 The round of 32 will see the first meeting of two young hopefuls both bidding to reach the fourth round of a grand slam for the first time. Both players will be drooling at the prospect of playing the King of Roland Garros, Rafael Nadal, in the next round. Both men will be brimming with confidence, Jack Sock having recorded one of his best career wins over Grigor Dimitrov in the first round and then Borna Coric having beat Sam Querrey and then seasoned clay courter Tommy Robredo in five sets.
2015 has been Coric's first full year on tour and has seen a consistent start to proceedings. With a 13-13 record, a crushing win over Andy Murray in Dubai and more than glimmers of talent at the age of 18 the kid has established himself as a player to not be taken lightly. Already in the top 50 and constantly rising, the question is how far can he go, top 20? Top 10? World number 1? Some extraordinary questions and pressure for one so young, so for now I shall say top 20 of course, top 10 you would expect so, world number 1 let's just wait and see. The boy has still not reached an ATP world tour final but a deep run this week will do him the world of good.
Now onto Sock, the man of the moment. What an incredible 12 months it has been for the American. From obscurity and criticism from much of the public at lack of progress, and seen much in the same mold as under achieving Americans such as Donald Young and Ryan Harrison, Sock is now one of the best doubles players in the world and in red hot form on the singles tour. The now Wimbledon doubles champion started his 2015 season late due to injury but boy has he made up for it since. An 11-5 win loss record coming into Paris and a first ever title in Houston, Sock is establishing himself as America's tennis hope.
Now onto the matchup, Coric is probably the more rounded all court player of the two with balanced hitting off both wings and strong on both his serve and return games, he is a tough cookie to crack. Sock however plays a super-aggressive game combining huge serving with top spin forehands only rivaled by Nadal. He is not the most natural of movers on a clay court and is often found trying to hide his backhand but he does have the game to go out and hurt his opponents. Until his win in Houston, Sock shied away from the clay courts, with a losing record at challenger level and much more time spent concentrating on hard court events; one would think he was a weak player on the dirt. But in 2015 it all seems to have clicked as he is using his forehand to take control of points and taking advantage of the extra time he is getting from the return of serve.
However having said all this yours truly still thinks the matchup does favour Coric who will cause more trouble on the Sock serve than the other way around. Also the fact that Coric has a phenomenally strong backhand may take away some of the pain Sock is causing his opponents by attacking with aggressive forehands to the backhand wing. Much will depend on how Coric recovers from a first ever 5 set win but this writer expects a tight match and if pushed for a prediction will go with Borna to win in four.